Tri-C Training Programs Offer Entry Into In-Demand Health Care Field
Report by News 5 Cleveland focuses on College's Sterile Processing program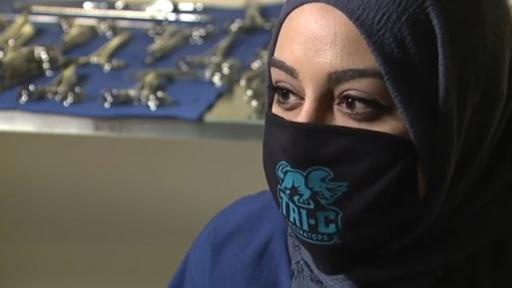 Employment opportunities in the health care industry brought Reham Shoman to Cuyahoga Community College (Tri-C®). 
Shoman enrolled in the College's one-year Sterile Processing and Distribution Technology program last fall to enter the field. Sterile processing technicians are in demand by Northeast Ohio hospitals and medical centers.
A recent report by Jade Jarvis of News 5 Cleveland highlighted job openings in the region's health care sector. The segment was part of an ongoing series — The Rebound — focused on the region as it recovers from economic distress brought by the COVID-19 pandemic.
Shoman was featured in the News 5 segment, which focused on how sterile processing serves as a point of entry into the health care field. Sterile processing technicians play an important role in medical care to ensure patient safety and combat infection in hospitals and surgical facilities.
The salary and stability offered by health careers brought Shoman to Tri-C to train.
"I think it's easier getting a job sometimes when you have some sort of certificate or degree," Shoman told Jarvis. "I also have three kids, so I want a good job that can bring in money."
The College offers a nine-month sterile processing training curriculum as part of its health careers program. Graduates are eligible to sit for the professional certification test given by the Certification Board for Sterile Processing and Distribution. 
Coursework can also be applied toward requirements for several health care-focused degrees, including an Associate of Applied Science in surgical technology. 
Northeast Ohio hospitals and medical providers advertised 15,000 open positions in the past 90 days, Jarvis reported. Tri-C is leading efforts to fill the talent pipeline through its work with the Workforce Connect Healthcare Sector Partnership.
Click here to watch the News 5 segment.
February 22, 2021
John Horton, 216-987-4281 john.horton@tri-c.edu