Tri-C to Host Financial Literacy Workshops For Aspiring Entrepreneurs
Finance expert LaRese Purnell to lead no-cost seminars for small-business owners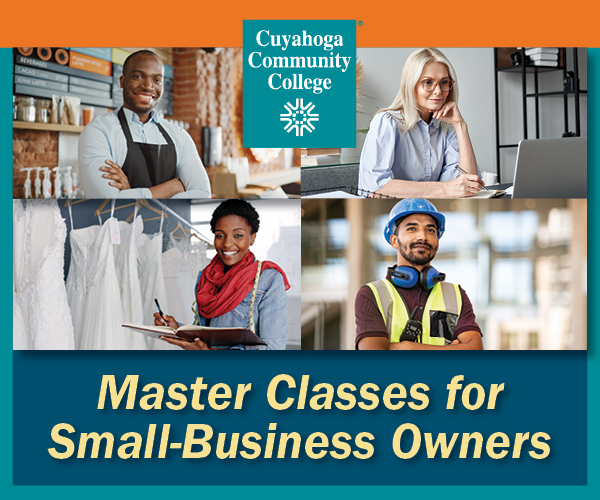 This spring, finance expert LaRese Purnell returns to teach financial literacy to local entrepreneurs in a series of in-person workshops at Cuyahoga Community College (Tri-C®).
Master Classes for Small-Business Owners is a series of four workshops covering marketing, taxes, staffing and payroll, customer service, business growth and more. Up to 50 small-business owners can register for these free workshops scheduled in May at Tri-C's Corporate College® East (4400 Richmond Road in Warrensville Heights).
"LaRese Purnell's expertise as a successful entrepreneur will help small-business owners grow their companies and master topics by sharing best practices and business knowledge," said JaNice Marshall, vice president of Access and Community Connections at Tri-C. "The previous classes have been a resounding success with a high-interest level and turnout, and we are pleased to offer them again to small-business owners."
The workshop schedule is as follows: 
May 1: Financial Literacy, Customer Service and Human Resources

 

May 8: Human Resources/Law and Risk Management, Business Retirement Plans and Payroll

 

May 15: Financial Software and CRM, Financial Structure, Product Pricing and Budgeting, Tax Structure and Documents 

 

May 22: Business Banking, Access to Capital, and Branding and Marketing
All workshops run 5:30–8 p.m. and include dinner. Each is limited to 50 registrants.
Purnell's 19 years of experience in business management, taxes and finance include executive positions with multimillion-dollar for-profit and nonprofit corporations. He is the managing partner of CLE Consulting Firm and serves on the board of directors for the YMCA of Greater Cleveland, Cleveland Clinic South Pointe Hospital, Cleveland Public Library Foundation, Step Forward, 100 Black Men in America Inc. and Business Volunteers Unlimited.
Master Classes for Small-Business Owners is part of the Entrepreneur in Residence initiative created by Huntington National Bank and the City of Cleveland. Tri-C is one of 11 nonprofit partners in Cuyahoga, Lorain and Ashtabula counties hosting the workshops and events ― many of which focus on minorities and women. More than 150 Northeast Ohio entrepreneurs gained insight to grow their businesses in the fall workshop series.
Learn more and register at tri-c.edu/accesscenters. Contact Char Prince at 216-312-7183 or laresepurnell22@gmail.com for more information.
April 27, 2023
MEDIA CONTACT: Anthony Moujaes, 216-987-3068 or anthony.moujaes@tri-c.edu