Tri-C to Host Community Conversation Between Cleveland Native Rich Paul and Mayor Justin Bibb
Free event will be held the day after Paul's memoir goes on sale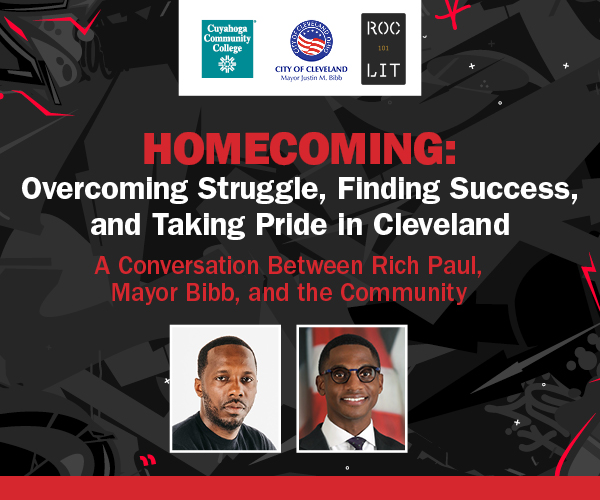 Cuyahoga Community College (Tri-C®) will host a community conversation between iconic sports agent Rich Paul and Cleveland Mayor Justin M. Bibb. The event, HOMECOMING: Overcoming Struggle, Finding Success and Taking Pride in Cleveland, will take place in Tri-C's Metro Campus Auditorium on Wednesday, Oct. 11.
Paul and Bibb will discuss the challenges of growing up in Cleveland and the steps today's youth can take to ensure future career success. The event takes place the day after Paul's book, Lucky Me: A Memoir of Changing the Odds, is released. Attendees will receive a free copy with registration.
The event is free and open to all ages, but reservations are required. Register on the official Eventbrite page. Registration will close once the 750-person capacity limit is reached.
"It's a real privilege to come back to Cleveland to celebrate the release of my memoir, Lucky Me," Paul said. "The book details how this city shaped me into the businessman and person I am today. To be able to now sit down with the mayor of Cleveland — who I am lucky enough to call a good friend — is a very surreal moment."
Doors will open at 5:30 p.m. Upon entering, attendees must show registration confirmation and will receive a free copy of Paul's book. The event will begin at 6:30 p.m. with an initial conversation between Mayor Bibb and Rich Paul, followed by a Q&A session with the audience.
September 26, 2023
MEDIA CONTACT: Anthony Moujaes, 216-987-3068 or anthony.moujaes@tri-c.edu