Tri-C Theater Students Present Proof
Performances of Pulitzer Prize-winning play set for April 25-28 at Western Campus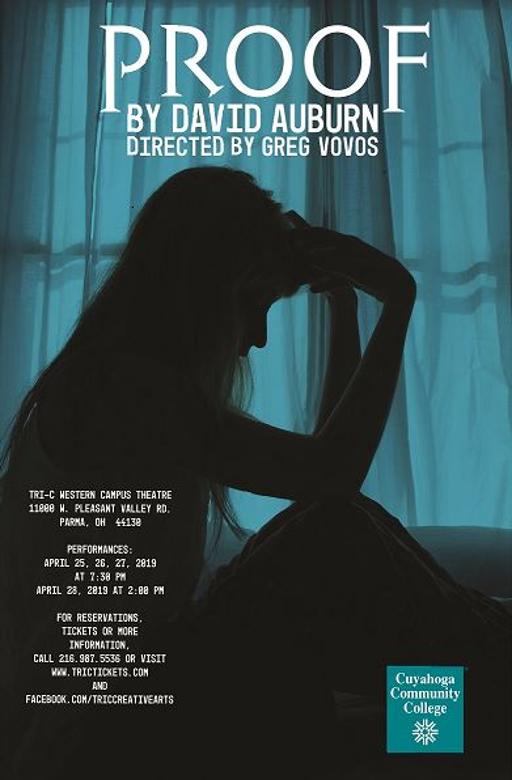 The struggles of a daughter dealing with her late father's genius and mental illness will be examined onstage in April as Cuyahoga Community College (Tri-C®) students present Proof at Western Campus.
The play — written by David Auburn — won the 2001 Pulitzer Prize for drama and inspired a film starring Gwyneth Paltrow, Anthony Hopkins and Jake Gyllenhaal.
Proof tells the story of Catherine, who cared for her father, Robert — a mathematical genius and professor — through a lengthy mental illness. Upon his death, his ex-graduate student Hal discovers a paradigm-shifting proof about prime numbers in Robert's office.
As Catherine works to prove the proof's authorship, she finds herself in a relationship with Hal. The play explores her fear of following in her father's professional footsteps and her desperate attempts to stay in control.
Four performances of Proof will take place April 25-28 at the Western Campus Theatre, located at 11000 Pleasant Valley Road in Parma. Times are as follows:
7:30 p.m. Thursday-Saturday, April 25-27
2 p.m. Sunday, April 28
Tickets are $10 for adults and $8 for seniors or students from schools other than Tri-C. (Admission is free for Tri-C students with a College ID.) Reduced rates are available for groups of 10 or more.
Visit www.trictickets.com or call 216-987-5536 for tickets.
April 19, 2019
John Horton, 216-987-4281 john.horton@tri-c.edu