Tri-C Staff to Receive SIGUCCS Hall Of Fame Award
Scott Trimmer to be honored in Chicago during annual conference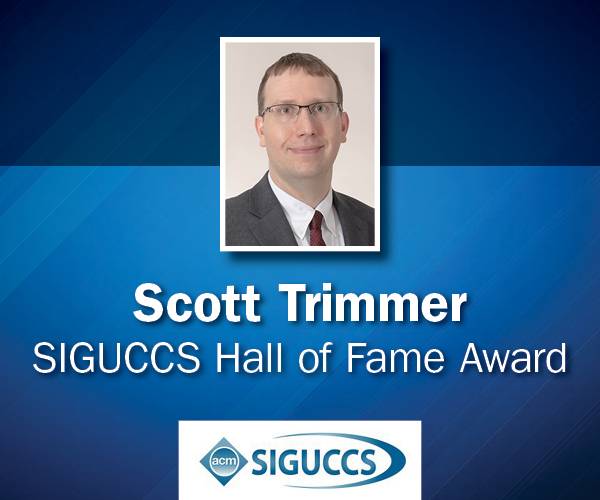 In recognition of his professional contributions to Cuyahoga Community College (Tri-C®) and across higher education, Scott Trimmer will receive the Hall of Fame Award from the Special Interest Group on University and College Computing Services (SIGUCCS).
Since 2014, Trimmer has served as the director of the Learning Commons at the College's Eastern Campus. The Learning Commons at each Tri-C campus provide students with library materials, access to technology, tutoring services and placement testing.
The SIGUCCS Hall of Fame Award recognizes individuals whose specific contributions have had a positive impact on the organization and the professional careers of the members and their institutions.
"I have given and received much from SIGUCCS, but I am both humbled and at a loss for words at being selected to join the SIGUCCS Hall of Fame," Trimmer said. "I would not be who I am as a person, leader, parent or spouse without the guidance, friendship and mentoring I've received from SIGUCCS over the years."
His IT career and introduction to SIGUCCS began as a student employee in 1998 at Oberlin College's Center for Information Technology, where he worked with other committee members.
He began attending SIGUCCS conferences in 2004 while working at the University of Findlay and volunteered to staff registration tables. In 2012, he served as vendor co-chair for the 2013 conference in Memphis, Tennessee. At the 2014 Salt Lake City, Utah, conference, he co-authored and presented his first SIGUCCS paper, "Strategic Partnerships: Collaborating With Institutional Leadership to Improve Student Learning Outcomes."
Trimmer served as the conference chair for what would have been the Fall 2020 SIGUCCS Conference in San Diego, California. Due to the pandemic, the conference was postponed until Spring 2021 and moved online.
Trimmer and the other honorees will be recognized at the 2023 conference March 26-29 in Chicago.
March 21, 2023
MEDIA CONTACT: Anthony Moujaes, 216-987-3068 or anthony.moujaes@tri-c.edu