Tri-C Recognized for Excellence in Financial Reporting For 14th Consecutive Year
College earns Triple Crown Award from Government Finance Officers Association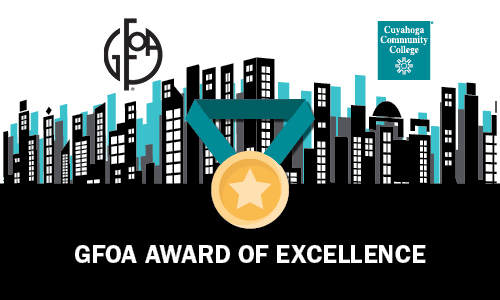 Cuyahoga Community College (Tri-C®) has received the Government Finance Officers Association (GFOA) Certificate of Achievement for Excellence in Financial Reporting for the 14th consecutive year, demonstrating of the College's commitment to responsible stewardship of taxpayer resources.
Tri-C was the only higher education institution in Ohio — and one of only three in the nation — to receive the designation for its 2021 Year-End Annual Comprehensive Financial Report (ACFR).
"This honor is the highest form of recognition in governmental accounting and financial reporting," said David Kuntz, Tri-C executive vice president of administration and finance. It represents a significant accomplishment by the College and its management, and shows community members how their tax dollars directly support the success of our students."
The College was also a "Triple Crown" winner for its 2020 fiscal year reports. This is the first year the GFOA presented a Triple Crown award. The Triple Crown recognizes governments and institutions that receive the GFOA's Certificate of Achievement for Excellence in Financial Reporting, Popular Annual Financial Reporting Award and Distinguished Budget Presentation Award.
Tri-C has won consecutive awards since 2008 for all three of its annually published financial reports: the Budget Book, the Popular Annual Financial Report (PAFR) and the ACFR.
The College's values include building trust, respect and confidence among colleagues, students and the community. Tri-C's annual financial reports demonstrate its transparency regarding how public tax dollars are spent.
October 12, 2022
Media Contact: Anthony Moujaes, 216-987-3068 or anthony.moujaes@tri-c.edu