Tri-C President Receives Honorary Degree From Alma Mater
Alex Johnson recognized at Winston-Salem State University Commencement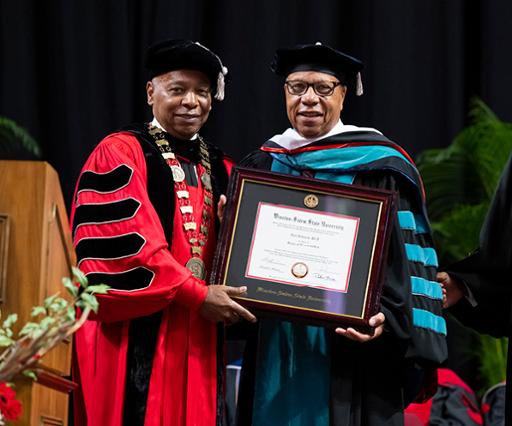 Cuyahoga Community College (Tri-C®) President Alex Johnson was recognized with an honorary doctorate of humane letters from his alma mater, Winston-Salem State University (WSSU), at its commencement ceremony on Friday, May 13.
WSSU awards honorary doctorates for achievements of extraordinary and lasting distinction, based on an individual's scholarship, creativity, leadership, humanitarian service or public service. Johnson was selected for the honorary degree in recognition of his 45-year career in higher education, 29 as a college president.  In conferring the degree, WSSU Chancellor Elwood Robinson cited Johnson's commitment to creating inclusive and transformational organizations, and his dedication to improving student access, equity, success and completion.
Johnson has been president of Tri-C since July 2013 and will retire at the end of June. During his tenure the College's graduation rate has increased from 3.7 percent to 24 percent. The number of workforce certificates earned annually has grown from 900 to nearly 16,000. In academic year 2020-2021, Tri-C conferred 4,600 degrees and academic certificates, the highest single-year number in its history, despite the impact of COVID-19.
"It is a deep honor and privilege to return to my home state and receive this recognition from my alma mater, Winston-Salem State University," Johnson said. "This is the place where my higher education journey began, and where the importance of community, inclusion and educational opportunity in advancing lives and society was deeply ingrained in me. These fundamental principles have guided my life's work and approach to leadership."
Prior to Tri-C, Johnson was president of the Community College of Allegheny County in Pittsburgh (2008-2013), chancellor of Delgado Community College in New Orleans (2004-2008) and president of Tri-C's Metropolitan Campus (1992-2003). He also held a number of administrative positions at WSSU, from 1983-1993, culminating in the role of vice chancellor for academic affairs.
A native of Concord, N.C., Johnson earned his bachelor's degree from WSSU in 1971. He received the university's Simon Green Atkins Distinguished Alumnus award in 2012.
Johnson has also received honorary degrees from University of Holy Cross in New Orleans and Community College of Philadelphia. He earned a doctorate from the Pennsylvania State University, and a master's degree from Lehman College.
May 17, 2022
By Anthony Moujaes, 216-987-3068 or anthony.moujaes@tri-c.edu