Tri-C President Outlines Plans to Implement His Vision
Michael Baston hopes to eliminate barriers to enrollment, reach more potential students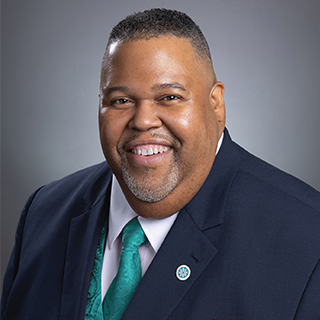 Many factors have led to the decline in Cuyahoga Community College (Tri-C®) enrollment over the past several years, specifically among Black students.
 
Between the rise of the gig economy and a difficult enrollment process, the number of Black students at the College has dropped almost 36% since 2019.
 
In a recent Signal Cleveland article, Tri-C President Michael Baston — just past the 100-day mark of his tenure — discussed his plans to eliminate barriers and bring in more Black students.
 
Baston plans to address this by simplifying the College's enrollment process and working with organizations like the Cuyahoga Metropolitan Housing Authority to increase awareness of what Tri-C offers.
 
"If we change the way in which we embrace people, if we double down on expanding the pool, if we make ourselves sort of inescapable in some systems, we will increase the number of all students — most specifically, Black students in our city that currently don't have the opportunity to take advantage of what we offer," he said.
 
Baston also acknowledges that higher education is competing with fast-cash employment options like DoorDash and Uber Eats.
 
"That means colleges, universities and, most specifically, community colleges have to think about engaging young people where they are and talking to them in ways that don't put them down or criticize them because they have what we might consider a side hustle," he said. "We want to help them understand that there are a range of possibilities for your economic destiny."
 
Read the story on Signal Cleveland.
December 22, 2022
By Noelle Bye, 216-987-4742 or noelle.bye@tri-c.edu