Tri-C President, other Cleveland college leaders look forward to working with Bibb administration
Dr. Alex Johnson discusses role of higher education in advancing economic initiatives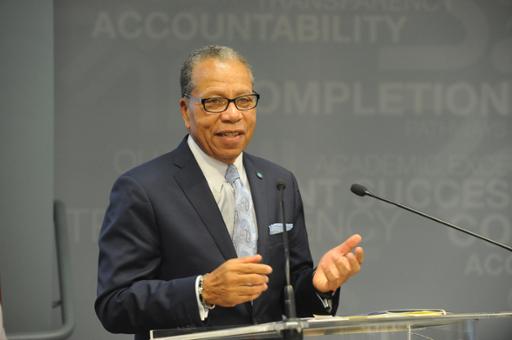 Cuyahoga Community College (Tri-C®) President Alex Johnson and two local counterparts are already collaborating with Cleveland's new mayoral administration.
Johnson, along with Cleveland State University president Harlan Sands and Case Western Reserve University president Eric Kaler, met with Cleveland Mayor Justin Bibb in late November to brainstorm ideas on how the city's three higher education institutions can contribute to economic growth and workforce readiness throughout Northeast Ohio.
Johnson underscored the importance of a seamless K-16 transition between the city's public schools and higher education, as well as the need to engage core Cleveland communities regarding the opportunities a college education affords, according to Crain's Cleveland Business (subscription required).
Bibb succeeds Tri-C alum Frank Jackson, who served as mayor for 16 years and was recognized by the College in December with a courtyard and scholarship bearing his name.
January 10, 2022
By Anthony Moujaes, 216-987-3068 or anthony.moujaes@tri-c.edu