Tri-C President Alex Johnson Joins #EndCCStigma Podcast
Conversation focuses on historic role of community colleges in higher education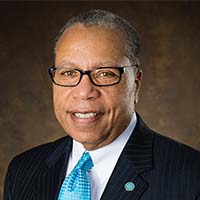 Cuyahoga Community College (Tri-C®) President Alex Johnson started his career as a teacher. Today, he still works to educate people — particularly when it comes to addressing misconceptions about community colleges.

Each and every day, Johnson said, he finds himself correcting people about an erroneous belief regarding two-year institutions.

That is the reality powering the #EndCCStigma campaign now sweeping across social media.

Earlier this week, Johnson discussed the movement on a podcast with Steve Robinson, president of Owens Community College in Northwest Ohio. Robinson started the #EndCCStigma campaign earlier this year.

Much of their conversation focused on the historic role of community colleges in the nation's higher education system. Johnson described community colleges as an American invention that helped lead the country to great heights.

Johnson was one of seven guests on Robinson's most recent podcast, the sixth in a series. The segment featuring Johnson begins near the 48-minute mark.
May 01, 2019
John Horton, 216-987-4281 john.horton@tri-c.edu