Tri-C Presents 'NewNow 2021' Virtual Art Exhibit
College and Artists Archives of the Western Reserve partner on exhibit opening Feb. 18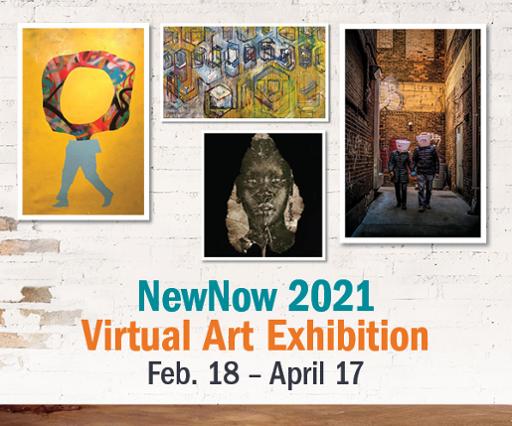 The work of 63 regional artists will be showcased in NewNow 2021, a virtual art exhibition presented by Cuyahoga Community College (Tri-C®) and Artists Archives of the Western Reserve. 
NewNow 2021 will be on view Feb. 18 through April 17 at artistsarchives.org. Much of the work chosen for the competitive exhibition speaks to the upheaval of the previous year and the tumultuous energy propelling society forward. 
The exhibition was juried by Cat Sheridan, curator of the Ohio Arts Council's Riffe Gallery. 
"I hope that NewNow exemplifies for the viewer — as it does for me — the liminal truth of the year: We find ourselves placed squarely at the nexus of change, acutely aware that we are experiencing history," Sheridan said. 
The exhibition includes vibrant abstract painting, stunning portraits in oil, innovative ceramics and poignant mixed media work. The virtual gallery features detailed images and artist information including biographies, headshots and links to dig deeper into their compelling work. 
This is the fourth time the biennial exhibit has been held in Northeast Ohio. NewNow 2021 shifted to a virtual format as part of ongoing efforts to limit the spread of COVID-19. In previous years, it has been shown at Tri-C's Gallery East at Eastern Campus. 
An hourlong opening reception for the exhibition begins at 7 p.m. Thursday, Feb. 18, via Zoom. The winners of five juror's awards will be announced during the online event, and $1,800 in cash prizes will be awarded. 
The reception will also include a preview of the show and remarks by Sheridan; Blake Cook, Gallery East director; Terri Patton, Gallery East coordinator; and Mindy Tousley, executive director of Artists Archives of the Western Reserve. Register for the event at artistsarchives.org.
February 01, 2021
John Horton, 216-987-4281 john.horton@tri-c.edu