'Tri-C Performing Arts' Presents Live World Premiere of Award-Winning FEAST: a ballet
Tickets on sale now for March 25 performance at Eastern Campus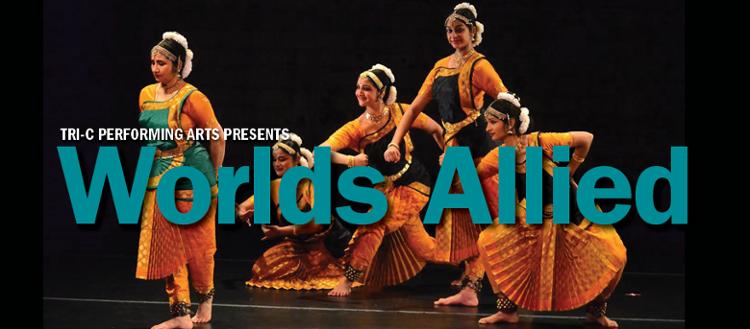 A performance combining FEAST: a ballet and Vivarta-Transformations – titled Worlds Allied – will debut live and in person at Tri-C's Eastern Campus as part of the Tri-C Performing Arts season presented by Cuyahoga Community College (Tri-C®).
Worlds Allied takes place at 7:30 p.m. Friday, March 25 at the Simon and Rose Mandel Theatre on Tri-C's Eastern Campus.
"We are so excited to be presenting the live world premiere of FEAST at Tri-C," said Christina Lindhout, director, choreographer and co-producer of FEAST: a ballet. "It seems as though the subject matter of this work gets more and more relevant by the day, and we are thrilled to be bringing this story to life for the first time in front of a live audience."
In five distinct movements, FEAST: a ballet combines ornate imagery, playful storytelling and powerful movement to explore the disturbing history of colonial exploitation and its effects on the world in which we live.
Immersed in a lavish set of over 500 sculptural objects created by artist Corrie Slawson, FEAST follows a corps de ballet of dancers as they navigate a world of contradictions: ruler and ruled, giver and taker, consumer and consumed, complicity and resistance.
The performance premiered virtually worldwide in November 2020. Since then, the creative team behind FEAST has been awarded the Gold Award for Best Documentary at Virgin Spring Cinefest, Executive Producer Corrie Slawson won a Cleveland Arts Prize and Lindhout was awarded an Ohio Arts Council Individual Excellence Award.
Worlds Allied opens with Vivarta, a production from internationally renowned Indian classical dancer and choreographer, Cleveland-based Sujatha Srinivasan. The performance is a captivating visual journey with dancers representing the five elements' struggle to find a balance between the natural world and humanity.
A form of Indian classical dance called Bharatanatyam is used to depict humankind's irresponsible use of natural resources and the pollution of land, water and air in the context of a grand retelling of the history of the universe, and leaves you with a sense of hope for the future.
"We are excited for this collaboration which brings the pressing topic of climate change to audiences in Northeast Ohio through the engaging medium of dance and music," said Srinivasan, artistic director or Shri Kalaa Mandir.
Tickets are $25 and can be purchased at worldsallied.eventbrite.com.
Tri-C's 2021-2022 Performing Arts season features classical piano, jazz and dance, bringing a world-class artistic experience to the Greater Cleveland community. The season continues with Pianist Bryan Wallick March 27, Goldings/Bernstein/Stewart Organ Trio April 3, a screening of Disney and Pixar's Soul April 10 and Pianist Daniel Shapiro May 1. Learn more at tri-c.edu/performingarts.
March 04, 2022
By Anthony Moujaes, 216-987-3068 or anthony.moujaes@tri-c.edu