Tri-C Performing Arts Presents 'Afrofuturism: Black Lives Will Exist in the Future' at Gallery East
Multimedia art exhibit on display through Jan. 19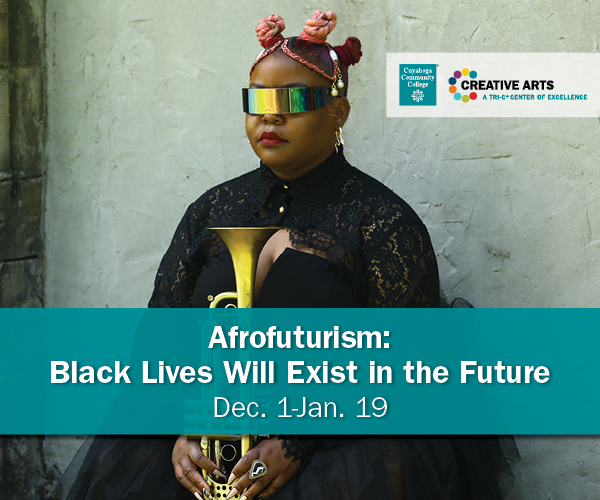 Trumpeter and Cuyahoga Community College (Tri-C®) adjunct faculty member Theresa May will open her multimedia art exhibit Afrofuturism: Black Lives Will Exist in the Future as part of the 2022-2023 Tri-C Performing Arts season at Eastern Campus in December. 
The free exhibit will showcase artwork across a variety of mediums from Dec. 1 to Jan. 19 at Gallery East. An opening reception will take place Dec. 1 from 6:30-8 p.m., with a live performance at 7 p.m. Gallery hours are 10:30 a.m. -- 3:30 p.m. Monday through Thursday.  
In 2022, May received The Urgent Art Fund grant through SPACES with support from Cuyahoga Arts and Culture to create Afrofuturism: Black Lives Will Exist in the Future. 
The project features "Afrofuturism," a piece written for solo trumpet with pedal effects and piano accompaniment. A music video and photography exhibit will complement the piece commissioned by May from composer Shanyse Strickland in 2021.  
"Afrofuturism" elicits stories of Blackness and embodies May's personal style, creativity and aesthetic while highlighting Black women. The opening of the piece calls upon the ancestors with unaccompanied trumpet, followed by a middle section that dances to the beat of the African Diaspora, and ends with the spoken words "Black lives will exist in the future."  
"Afrofuturism" collaborators include mixing and mastering engineer David Aguila, recording engineers Pablo Castillo Gomez and Sharon Walsh, pianist Megan Denman, spoken word artist Eris Eady, stylist Chevè Freed, photographer Emanuel Wallace, videographer McKinley Wiley of the Dark Room Company, costumer Marco Alexander of Sound Kulture and capoeira artists Ismail Douglas and Cleotha McJunkins. Recording took place at Kent State University. 
Eastern Campus is located at 4250 Richmond Road in Highland Hills. Gallery East is in room 135 of the Education Center, which is best accessed from Robert Bishop Drive off of Harvard Road. 
Tri-C's 2022-2023 Performing Arts season, featuring art, classical piano, jazz and dance, brings a world-class experience to the Greater Cleveland community. Learn more at  
November 10, 2022
MEDIA CONTACT: Anthony Moujaes, 216-987-3068 or anthony.moujaes@tri-c.edu