Tri-C Performing Arts Brings Organ Trio to Cleveland
Tickets on sale now for concert at Metro Campus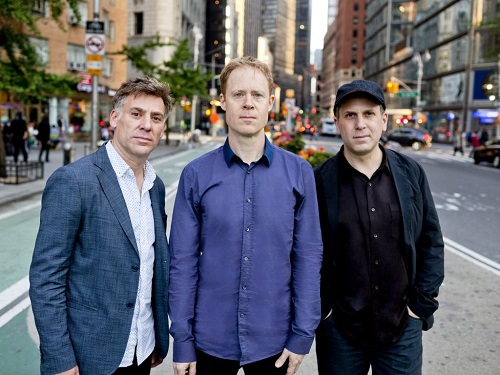 An acclaimed organ trio featuring Larry Goldings, Peter Bernstein and Bill Stewart will perform live at Cuyahoga Community College (Tri-C®) as part of the Tri-C Performing Arts season.
The performance takes place at 7 p.m. Sunday, April 3, at the Metropolitan Campus Auditorium in Cleveland.
In the mid-1990s, The New York Times described Goldings, Bernstein and Stewart as "the best organ trio of the last decade." Together for more than 30 years, the trio has been recognized for charting new ground with its synergistic playing and thoughtful music.
"In my opinion, nothing rocks like a B3 — and this group is nothing short of spectacular," said Terri Pontremoli, director of Tri-C Performing Arts and Tri-C JazzFest. "If you're looking for a groove-packed night, this is it."
More than a dozen recordings display their distinctive sound, from multilayered interpretations of jazz standards to their own original compositions.
With his signature Hammond organ style and versatility on many keyboards, Goldings has traversed not only the wide spectrum of jazz where he is perhaps best known, but also the worlds of funk, pop and electronic music. In high demand as a sideman, Goldings can be heard on scores of albums by artists in a variety of musical genres.
Jazz guitarist Bernstein has been part of the scene in New York City and abroad since 1989. He has participated in more than 200 recordings and numerous festivals, concerts and club performances with musicians from all generations.
Drummer/composer Stewart made his name as the rhythmic force behind guitarist John Scofield in 1990 and still collaborates with him to this day. He is now one of the most sought-after jazz drummers in the world.
Tickets are $20 and can be purchased at gbsorgantrio.eventbrite.com. Free parking is available in Lot 5 off Woodland Avenue.
Masks are required for all audience members, staff and technical personnel, in keeping with the College's policy requiring masks to be worn at all events in which three or more people will gather for an extended time.
Tri-C's 2021-2022 Performing Arts season features classical piano, jazz and dance, bringing a world-class artistic experience to the Greater Cleveland community. Learn more at tri-c.edu/performingarts.
March 28, 2022
By Anthony Moujaes, 216-987-3068 or anthony.moujaes@tri-c.edu