Tri-C Performing Arts Brings Grammy-Winning Trumpeter Wynton Marsalis Back to Cleveland
SOLD OUT! The Jazz at Lincoln Center Orchestra with Wynton Marsalis performs Oct. 8 at Metropolitan Campus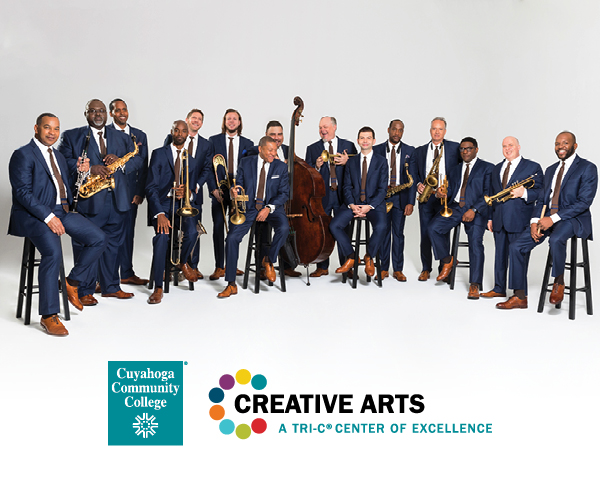 Tri-C Performing Arts will open its 2022-2023 season with the acclaimed Jazz at Lincoln Center Orchestra (JLCO) with trumpeter Wynton Marsalis, who will perform in Cleveland for the first time since 2015.
The concert, made possible with support from Scott Balogh and Stacy Banks, takes place at 8 p.m. Saturday, Oct. 8, at the Cuyahoga Community College (Tri-C®) Metropolitan Campus Auditorium.
"We are thrilled to welcome back the Jazz at Lincoln Center Orchestra with Wynton Marsalis," said Terri Pontremoli, director of Tri-C JazzFest and Tri-C Performing Arts. "It's even sweeter to host this extraordinary concert on campus, where the Marsalis' have presented concerts and master classes over the years."
From his New Orleans beginnings and fiery debut with legendary drummer Art Blakey's Jazz Messengers to his string of acclaimed albums and current role as managing and artistic director of Jazz at Lincoln Center, Marsalis has amassed an unrivaled number of awards and accolades, including nine Grammys and the Pulitzer Prize for Music — the first ever awarded to a jazz artist.
Since 1988, he has led the Jazz at Lincoln Center Orchestra, a 15-piece assemblage of today's finest jazz soloists and ensemble players. This remarkably versatile orchestra performs a vast repertoire ranging from original compositions and Jazz at Lincoln Center-commissioned works to rare historic compositions and masterworks by Duke Ellington, Count Basie, Thelonious Monk, Dizzy Gillespie, Louis Armstrong and many others.
Alongside symphony orchestras, ballet troupes, local students and an ever-expanding roster of guest artists, JLCO has toured in hundreds of cities throughout the world.
General admission tickets for this special event are $50. A limited number of platinum and gold circle tickets ($250 and $125) include a post-concert reception with Marsalis. Seating is reserved by section only. Tickets can be purchased at wyntonmarsalisCLE.eventbrite.com. Free, secure underground parking is available in Lot 5 off Woodland Avenue near E. 30th Street.
Masks are optional for all audience members, staff and technical personnel, in accordance with College policy. This performance is presented in association with Jim Wadsworth Productions.
Tri-C's 2022-2023 Performing Arts season features classical piano, jazz and dance, bringing a world-class artistic experience to the community. The second concert of the season features trumpeter Terence Blanchard with the Turtle Island String Quartet. Learn more at tri-c.edu/performingarts.
September 16, 2022
By Anthony Moujaes, 216-987-3068 or anthony.moujaes@tri-c.edu