Tri-C Partners With Amazon to Upskill Employees as Part of Career Choice Program
Hourly Amazon employees eligible for credited College courses at no cost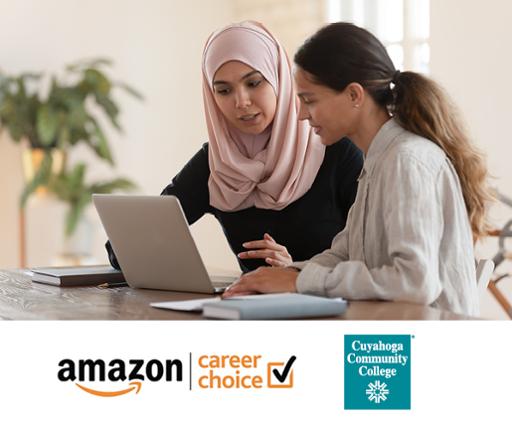 Through a new Career Choice partnership, Amazon employees can learn new skills and advance their careers by earning certificates or degrees from Cuyahoga Community College (Tri-C®) — at no cost.
Established in 2012, Amazon's Career Choice program has covered tuition and fees for thousands of employees around the world to pursue education and upskilling opportunities including industry certifications designed to lead to in-demand jobs and foundational skills such as English language proficiency, high school diplomas and GEDs.
In January, Amazon expanded its Career Choice program to pay full college tuition for employees at Tri-C and other partner institutions across the United States. Amazon workers can enroll in any credit program at the College, which offers more than 1,000 courses in 200-plus career and technical programs.
"Tri-C is pleased to welcome Amazon employees who aspire to advance their careers through our coursework," said JaNice Marshall, vice president of access and community connections at Tri-C. "The Amazon Career Choice program fits nicely with the College's mission to provide high-quality, accessible and affordable educational opportunities that promote individual development and improve the overall quality of life in a multicultural community."
Rather than offering reimbursement once coursework is completed — which can be a barrier for anyone who lacks existing funds — Amazon will pay employees' tuition and fees in advance to provide access to the educational options they want.
"When employers invest in upskilling their people through training and education, it benefits those employees as well as Ohio's economy by building a workforce pipeline for the present and the future," said Ohio Department of Higher Education Chancellor Randy Gardner. "I applaud this investment and partnership with colleges and universities to ensure that Ohio is addressing skills gaps and moving more of its citizens into rewarding careers."
Career Choice is available to hourly workers employed by Amazon for at least 90 days.
More than 35,000 Amazon employees have participated in the program nationwide.
 
March 03, 2022
By Anthony Moujaes, 216-987-3068 or anthony.moujaes@tri-c.edu