Tri-C Opens Community Conversation Exploring Racial Justice
MetroHealth co-sponsors Sept. 16 virtual program featuring author and educator Tim Wise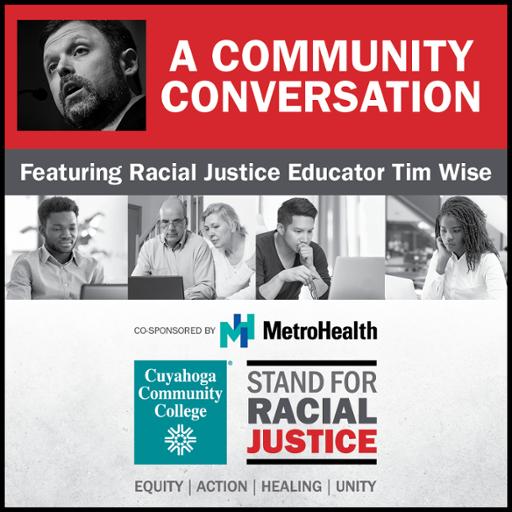 Stand for Racial Justice at Cuyahoga Community College (Tri-C®) debuts next week with a discussion featuring Tim Wise, one of America's leading writers and educators on race and racism. 
The conversation with Wise begins at 3:30 p.m. Wednesday, Sept. 16. He will be joined by a panel of local business leaders, who will discuss how their organizations promote equity in hiring, services and the community. 
The free virtual event launches Tri-C's Stand for Racial Justice, which seeks to advance racial equity and healing at the College and across Northeast Ohio through education, dialogue and action. 
"We are committed to reconciling the facts of race in America in a spirit of inquiry," said Alex Johnson, president of Tri-C. "That means engaging in difficult conversations to address the evident realities of systemic racism. That process starts now." 
Wise has spent the past 25 years speaking to diverse audiences across the country and has trained numerous professional groups on methods for dismantling racism in their institutions. 
He has authored eight books, with another due out in December. His highly acclaimed memoir — White Like Me: Reflections on Race from a Privileged Son — was adapted into a documentary film in 2013. 
Wise is scheduled to talk for the first 30 minutes of the online event. The program expands at 4 p.m. to include four Northeast Ohio business leaders. The panel includes:
Akram Boutros, president and CEO, The MetroHealth System
Micki Byrnes, president and general manager, WKYC-TV
Joe DiRocco, regional president, Fifth Third Bank
David Reynolds, private banking executive, Key Wealth Management 
The 90-minute program concludes with a Q&A session. WKYC senior reporter and commentator Leon Bibb will moderate. 
MetroHealth is co-sponsoring the event with the College. Visit tri-c.edu/TimWise to register for the free online program.
September 11, 2020
John Horton, 216-987-4281 john.horton@tri-c.edu