Tri-C Launches National 'Rock The Polls' Voting Anthem and Challenge
Tri-C Democracy Fellows partner with gospel artist for new-to-the-world voting anthem and dance challenge to promote voter registration and engagement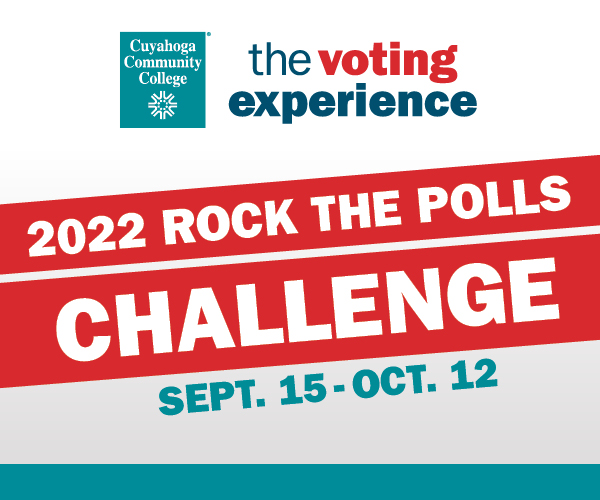 To encourage voter participation ahead of National Voter Registration Day (Sept. 20), the Cuyahoga Community College (Tri-C®) Democracy Fellows — a student cohort supported by the College's Office of Government Relations — will launch The Voting Experience, a civic engagement program for students, by students.
Now in its fifth year, The Voting Experience has been recognized nationally as a scalable model for other colleges and universities to adopt. At the heart of this year's Promote the Vote effort is a new-to-the-world voting anthem, "Rock The Polls," written and performed by gospel artist Corey Bapes. The program also includes a co-curricular challenge, a student-produced music video, a playlist of student-led voter education videos and a nationwide dance challenge.
The Democracy Fellows kicked off this effort on Sept. 15, introducing a single-source guide to the nonpartisan Rock The Polls-themed 2022 student voter engagement effort at tri-c.edu/TriCVotes.
Rock The Polls Dance Challenge: Sept. 15 – Election Day (Nov. 8) — This year's Promote the Vote theme is the result of a months-long partnership between gospel artist Corey Bapes, Tri-C's Office of Government Relations and the 2022 Democracy Fellows core team. An original song, "Rock The Polls," dropped Sept. 15, along with a student-produced music video featuring Bapes, the Tri-C Democracy Fellows, student leaders and a cameo from new College president, Michael Baston. Embedded in the music video is a 12-second dance challenge. Everyone is invited to take the challenge via the TriCVotes webpage.
Campus Events: Sept. 15-22 — A Collegewide team featuring representatives from the Mandel Humanities Center and Student Engagement will help the Democracy Fellows host Rock The Polls voter registration events and dance challenge stations at events across all four campuses.
2022 Rock The Polls Co-Curricular Challenge Wrap Party: Oct. 12 — A wrap party for Tri-C students taking the co-curricular challenge will take place Wednesday, Oct. 12, 3:30-5 p.m. at the Mandel Humanities Center on the Eastern Campus. This is the fifth year that Government Relations and the Democracy Fellows core team have worked with Mandel Scholars to host a CLEadership Challenge project.
Contact Katie Montgomery, director of Government Relations and Democracy Fellows mentor, at 216-952-6146 or katharine.montgomery@tri-c.edu for more information.
September 15, 2022
By Anthony Moujaes, 216-987-3068 or anthony.moujaes@tri-c.edu