Tri-C Hosts Virtual Dr. King Celebration Jan. 16
45th annual remembrance is longest-running MLK event in Cleveland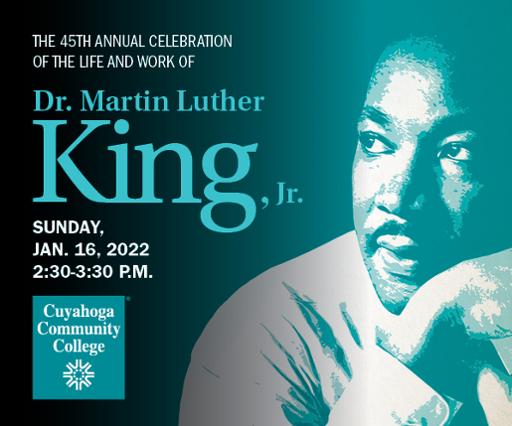 Cuyahoga Community College (Tri-C®) will host a virtual celebration for its annual birthday observance of Dr. Martin Luther King Jr., continuing a tradition that began in the late 1970s. The College will also partner with Cleveland State University on a breakfast event to commemorate King's legacy.
The 45th annual celebration begins at 2:30 p.m. Sunday, Jan. 16, and can be viewed online. The virtual remembrance will feature an assortment of musical performances as well as scholarship presentations and student speeches honoring the civil rights leader.
The Tri-C celebration is the longest-running MLK event hosted in Cleveland. The tradition began in 1977, six years before the federal government designated a day to honor King.
"Cuyahoga Community College understood early on the importance of honoring Dr. King's dream of civil rights and racial harmony," Tri-C President Alex Johnson said. "As we come together this year to reflect on his call to collectively fight injustice, it will be against the backdrop of renewed efforts to protect and strengthen voting rights."
The program will feature performances by the Tri-C Orchestra, the Contemporary Youth Orchestra and the Tri-C Vocal Arts Choir, JazzFest Academy and Dance Academy.
Three Tri-C students will present essays that reflect on a quote from King's 1965 remarks in Oberlin, Ohio: "The time is always right to do what is right."
The three essayists are Sydney Hughart, a Mandel Scholar and journalism major who plans to become an investigative journalist; Austin Keller, a Mandel Scholar who aspires to teach social studies and enjoys volunteering with nonprofits; and TinaRenea Conwell, a Phi Theta Kappa Honor Society member and CMSD employee who plans to become a civil rights attorney.
In addition, 12 Tri-C students will be honored for their scholarships from the Dr. Martin Luther King Jr. Humanitarian Scholarship Fund, established in 1987, and the Cleveland Teachers Union Endowed Scholarship Fund, established in 1995.
Tri-C's celebration of King typically takes place at Playhouse Square. The event moved online in 2021 given community efforts to minimize the spread of COVID-19.
The celebration with CSU takes place at 8:30 a.m. Tuesday, Jan. 18, and can be viewed online. It will feature presentations by students commemorating Dr. King's life and legacy. The program will also include remarks from Tri-C President Alex Johnson and CSU President Harlan Sands, as well as musical performances that include a gospel medley featuring "Lift Every Voice and Sing" by local recording artist Gerald Skillern.
Both events are free and available for public viewing.
January 06, 2022
By Anthony Moujaes, 216-987-3068 or anthony.moujaes@tri-c.edu