Tri-C Hosts Local Small Business Owners Discussion on Workforce Challenges
Rep. Shontel Brown, small business owners discuss labor shortages at Goldman Sachs 10,000 Small Businesses Fellows Roundtable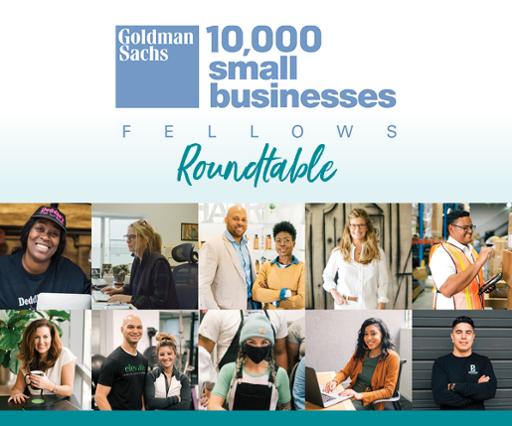 Cleveland-area small business owners came together for a roundtable discussion at Cuyahoga Community College (Tri-C®) on Friday, March 3. The event, which featured Congresswoman Shontel Brown, was part of Goldman Sachs 10,000 Small Businesses Voices "Road to Recovery," a cross-country series of bipartisan events connecting elected officials with small business owners.   
Tri-C is one four cities for the Goldman Sachs 10,000 Small Businesses (10KSB) Fellows program.
"I've been inspired by the great work Tri-C students have accomplished through the 10KSB Fellows program," said Alex Johnson, Tri-C president. "Community college students and small businesses are the foundation of America's economy and key to strengthening local talent pipelines right here in Cleveland. I look forward to collaborating with Goldman Sachs and Congresswoman Brown to create opportunities for our students and long-lasting solutions for workforce development."
The 10KSB Fellows program addresses one of the biggest issues facing small businesses today — the labor shortage — by connecting local small business owners and community college students through fully funded internships that support the future of Cleveland's workforce and small business community.
With 85% of Tri-C graduates living and working in the region, the College plays a significant role in workforce development.
"Cleveland's small businesses are the heart and soul of our city, but they continue to face unprecedented challenges in the wake of the pandemic," Brown said. "I am proud to stand with Cleveland's small business owners as we continue down the road to recovery. I'm inspired by Goldman Sachs' innovative partnership with Tri-C and grateful for their ongoing commitment to ensuring small business owners have the resources needed to thrive."
In a recent 10KSB Voices survey, 97% of small business owners reported that the labor shortage impacts their bottom line; of those, 87% said they find it difficult to recruit qualified candidates for open positions.
"We're honored to be working with Tri-C, Cleveland entrepreneurs and Congresswoman Brown to identify solutions to ensure that Main Street stays open for businesses," said Asahi Pompey, president of the Goldman Sachs Foundation.
March 07, 2022
By Anthony Moujaes, 216-987-3068 or anthony.moujaes@tri-c.edu