Tri-C Hosting 'Great Grocery Giveaway' With Western Reserve Area Agency on Aging
Former Browns players to help distribute food boxes Sept. 20 at Jerry Sue Thornton Center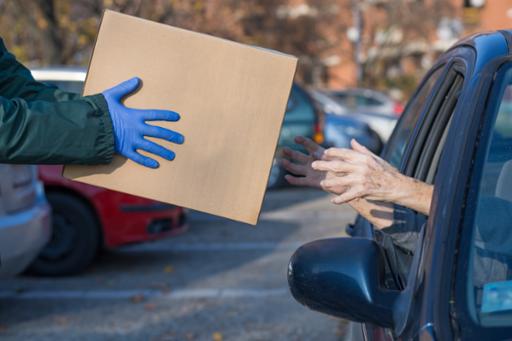 Four former Cleveland Browns players will help volunteers during 2023's final Great Grocery Giveaway on Sept. 20 at the Jerry Sue Thornton Center of Cuyahoga Community College (Tri-C®).
The former Browns players — Greg Pruitt, Ben Davis, Cleo Miller and Al Jenkins — and other volunteers will distribute 500 boxes of food and supplies to Cuyahoga County residents 60 and older. The event will kick off with a press conference at 9 a.m., and food distribution starts at 10 a.m.
The giveaway is sponsored by the Western Reserve Area Agency on Aging (WRAAA) and is part of a larger effort to fill food insecurity gaps in the community. One in six U.S. seniors live with the daily threat of hunger and malnourishment, leaving them prone to acute or chronic illnesses that could drastically reduce their life expectancy.
Each box includes about $80 worth of groceries and essential supplies, such as pasta, rice and beans, peanut butter, bread and household cleaning items. Boxes are limited to one per person.
"Looking back on our Great Grocery Giveaways this year, it's clear that our agency and partners have made a positive impact on our communities — allocating over 3,600 grocery boxes to older adults," said E. Douglas Beach, CEO of WRAAA. "Our final event of the year will feature special guests from the Cleveland Browns, who understand our mission and are willing to lend a helping hand to their community. These giveaways would not have been possible without our community partners, volunteers and WRAAA staff, all aligned through the goal of combatting food insecurity. I am thankful for their support in this important endeavor."
The Jerry Sue Thornton Center is located at 2500 E. 22nd St. in Cleveland.
WRAAA is a private nonprofit corporation designated as the planning, coordinating and administrative agency for federal and state aging and disability programs in Cuyahoga and four surrounding counties. Support is provided by Cuyahoga County ARPA funding.
September 18, 2023
MEDIA CONTACT: Anthony Moujaes, 216-987-3068 or anthony.moujaes@tri-c.edu