Tri-C General Counsel Graces Cover of The Black Professional Magazine
Renee Tramble Richard shares her journey of life lessons, career challenges and destiny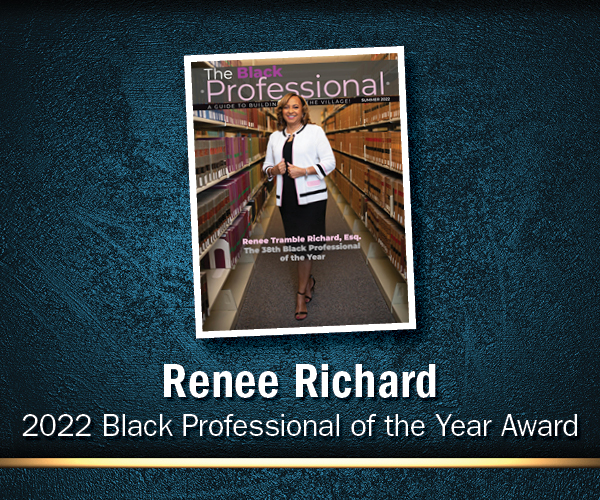 Cuyahoga Community College (Tri-C®) general counsel, Renee Tramble Richard, garnered the cover of The Black Professional Magazine's Summer 2022 issue ­— in recognition of the honor she received in March.
Richard was named the 2022 Black Professional of the Year, by the Black Professionals Association Charitable Foundation, and was featured in the organization's magazine, The Black Professional. The award recognizes distinguished African Americans in Northeast Ohio who have demonstrated excellence in leadership and made significant contributions to the community.
"It's an honor that I never imagined being bestowed upon me," Richard said. "I am proud of myself that I got there and humbled that the BPACF would think enough of the work that I've done to select me for this role."
Richard detailed her career as an attorney in corporate law, and the few opportunities available for African-American women to become a partner in or own a law firm. She also shared lessons from her career.
"It takes so much to get to the table in a corporate environment that is an opportunity that cannot be lost," Richard said. "You have to use that position to further opportunities for Black people. We can't just be at the table and be satisfied that you're there. You have to find your voice."
Vice president of legal services and risk management at Tri-C since 2012, Richard spoke about her impact at Tri-C.
"I like that combination of working for Tri-C and representing the institution's 3,000 employees, students and Board of Trustees," she said. "There are a wide variety of labor management, real estate, public finance, employee and student issues. We work on a variety of them any day."
In more than 20 years as an attorney, Richard focused her practice on public law and public finance, working with municipal and state governments, nonprofit organizations, housing authorities, banks, higher education institutions and community development corporations. She holds a J.D. from Cleveland-Marshall College of Law and an MBA from Cleveland State University.
Read the issue of The Black Professional Magazine online.
July 12, 2022
By Anthony Moujaes, 216-987-3068 or anthony.moujaes@tri-c.edu