Tri-C Foundation Honors Fred Koury For Distinguished Service
College advocate and Smart Business co-founder receives 2022 Heath Oliver Distinguished Director Award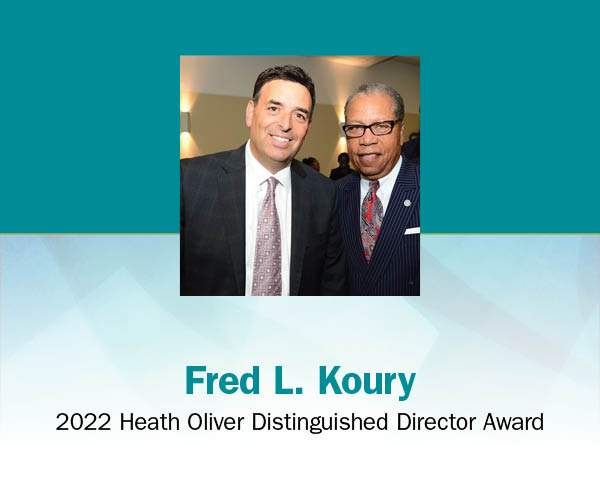 The Cuyahoga Community College (Tri-C®) Foundation Board of Directors awarded its 2022 Heath Oliver Distinguished Director Award to Fred L. Koury in appreciation of his exemplary service to the College and its students.
Koury joined the Foundation Board in 2012 and has served on its Executive Committee since 2014. During his six years as Development Committee chair (2014-2020), the Tri-C Foundation secured more than $123 million in grants and gifts. 
In 2013, he established the E.G. Leo Koury Scholarship Fund in his father's name to provide tuition assistance to first-generation college students, with preference for immigrants or children of immigrants. 
Outgoing chairperson Louis G. Joseph praised Koury's ability to connect with board members as one of his strengths.
"Fred has been able to connect personally with Foundation Board members, which has made the work we do all the more worthwhile," Joseph said. "His kindness and friendship make him as worthy of this honor as his list of accomplishments."
Megan O'Bryan, Foundation president and vice president of resource development for Tri-C, added that "Fred lives and breathes Tri-C. His enthusiasm and involvement have inspired others to become part of the Tri-C family."
The Westlake resident co-founded Smart Business Network in 1989, building a leading multimedia and content marketing business that provides print and digital marketing services to clients nationwide. He fostered a partnership between Tri-C and Smart Business to promote the College and its leaders while deepening community connections.
Smart Business has supported the Presidential Scholarship Luncheon, JazzFest and other fundraising events. A positive force on the Tri-C Foundation Board, Koury consistently supports Tri-C students and advocates throughout the business community to their benefit. 
Tri-C President Emeritus Alex Johnson added his congratulations: "Fred has been a stalwart supporter of Tri-C. He has found many ways to promote our organizational excellence through his publications, effectively raising the College's profile in the region."
The Heath Oliver Distinguished Director Award was established in memory of longtime Foundation Board Director Heath Oliver, president of Bardons & Oliver and a valuable member of the Board from 1988 until his death in 2009. Under his leadership, scholarships for Tri-C students became a fundraising priority; the Foundation successfully launched its first major gifts campaign; and Presidential Scholarship Luncheons raised significant dollars to benefit students.
Chartered in 1973, the Cuyahoga Community College Foundation is a tax-exempt 501(c)(3) charitable organization with a mission to secure funding for scholarships and program development and enhancement at the College.
July 07, 2022
By Anthony Moujaes, 216-987-3068 or anthony.moujaes@tri-c.edu