Tri-C Foundation Honors Dan Saltzman for Distinguished Service
College advocate and president of Dave's Supermarket honored with 2023 Heath Oliver Distinguished Director Award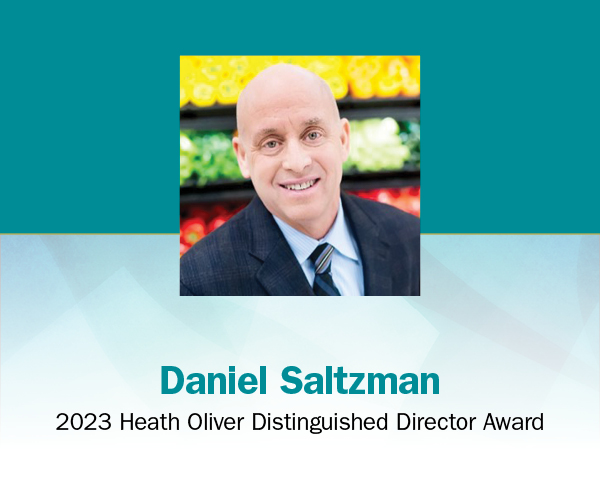 The Cuyahoga Community College (Tri-C®) Foundation board of directors awarded its 2023 Heath Oliver Distinguished Director Award to Daniel Saltzman for his exemplary service to the College and its students. The Solon resident received the award during the nonprofit organization's annual meeting in June.
Saltzman serves as an advocate for Tri-C students and embodies a passion for helping others succeed. He joined the Foundation board in 2008 and is an active member of its development committee.
As the president of Dave's Supermarkets, a family-owned and operated Cleveland business, Saltzman established the Dave's Supermarkets Endowed Scholarship Fund in 2009. This scholarship gives community members — including Dave's employees — access to a Tri-C education. Dave's Supermarkets serve as anchors in their neighborhoods and help fulfill the need for fresh food in areas without other full-service grocery stores.
"Dan's accomplishments as a board member are not only reflected by his financial commitments, but also his unique ability to educate Dave's Supermarket customers about Tri-C, and how they can support our students' success," said Pat Pastore, Tri-C Foundation board chairperson.
Saltzman uses Dave's as a platform to educate customers about Tri-C's impact and promote the College's levy campaigns. He also continuously supports scholarships by participating in the Foundation's fundraising events.
"Dan's support of Tri-C and our students reflects how he – and generations of the Saltzman family – are dedicated to the community, especially his employees," said Megan O'Bryan, Foundation president and vice president of resource development for Tri-C. "Through the Dave's Supermarket scholarship fund, many have been able to pursue an education and build a career."
Saltzman is President of Dave's Supermarkets, a family owned and operated Cleveland business. With 12 stores and nearly 1,500 associates, Dave's provides Cleveland and the surrounding suburbs with first class food shopping.  Dan is a fourth-generation grocer, following in the footsteps of his great grandfather Alex, who peddled fruit from his horse drawn wagon some 75 years ago, and his grandfather Dave, for whom the markets are named.
The Heath Oliver Distinguished Director Award was established in memory of longtime Foundation board director Heath Oliver, president of Bardons & Oliver and a member of the board from 1988 until his death in 2009. Under his leadership, scholarships for Tri-C students became a fundraising priority; the Foundation successfully launched its first major gifts campaign; and Presidential Scholarship Luncheons raised significant dollars to benefit students.
July 14, 2023
MEDIA CONTACT: Anthony Moujaes, 216-987-3068 or anthony.moujaes@tri-c.edu