Tri-C Financial Literacy Workshops a Resounding Success for Aspiring Entrepreneurs
Nearly 150 attend September and October sessions at Corporate College East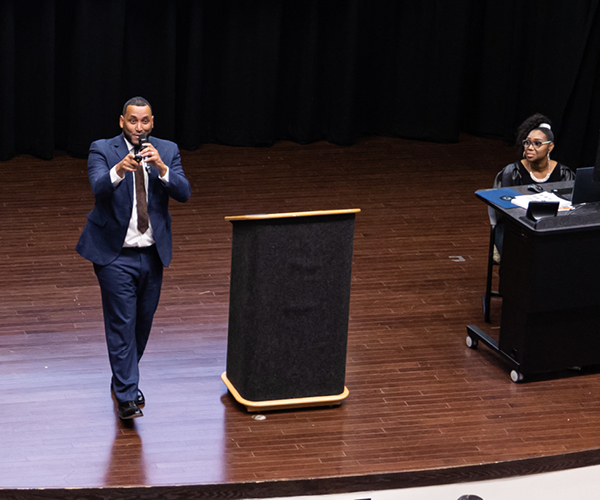 This fall, nearly 150 Northeast Ohio entrepreneurs gained valuable insight to grow their businesses through a series of workshops at Corporate College®, a division of Cuyahoga Community College (Tri-C®).
Led by finance expert LaRese Purnell, Master Classes for Small-Business Owners covered topics including marketing, taxes, staffing and payroll, customer service and business growth. Four workshops took place at Corporate College East in Highland Hills between Sept. 12 and Oct. 10.
The series is part of an entrepreneur-in-residence initiative created by Huntington National Bank and the City of Cleveland to provide business coaching and skills training to local entrepreneurs.
Tri-C is one of 11 nonprofit partners in Cuyahoga, Lorain and Ashtabula counties that received funding to host workshops and events, many of which focus on minorities and women.
"We were thrilled with the interest level and turnout we received for all four sessions," said JaNice Marshall, vice president of Access and Community Connections at Tri-C. "Every session was at capacity. Huntington representatives attended the final session and were equally thrilled with the success we achieved."
Tri-C received approximately $40,000 from Huntington National Bank, part of a more than $500,000 investment to support the initiative.
"Entrepreneur in Residence Powered by Huntington leverages the expertise of partners like Tri-C to help small-business entrepreneurs expand their skills and thrive," said Sean Richardson, regional president of Huntington National Bank. "Tri-C's program reached even more entrepreneurs than we anticipated. Together, we're going to be able to help more entrepreneurs start new businesses and help current businesses grow."
October 14, 2022
By Anthony Moujaes, 216-987-3068 or anthony.moujaes@tri-c.edu