Tri-C Famous: Stephanie Metzger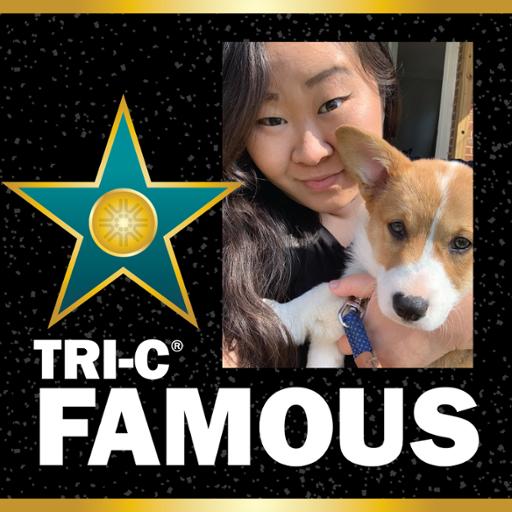 #TriCFamous is a bimonthly feature that introduces readers to the people who make the College work while providing a sneak peek into their lives off campus. 
Stephanie Metzger joined Tri-C's Integrated Communications department in 2020 as social media manager, responsible for generating and posting content to the College's social media pages. She previously spent four years as a digital and social producer at WKYC-TV, where she was part of a mobile team that produced the station's Emmy-winning "Let's Be Clear" series. Learn more about Stephanie in this week's Tri-C Famous. 
If you could travel anywhere in the world right now, where would you go?
Santorini, Greece. My fiancé and I were supposed to get married there in September 2020, just the two of us. We were bummed when the pandemic postponed our plans, but we've rescheduled for this August. Santorini is my dream destination because I love the stunning contrast of the white buildings against the cerulean sea. 
Tell us your best celebrity encounter story.
I interviewed Snoop Dogg back when I worked at WKYC. He was in Cleveland to promote his stage play. It was surreal, and I was so nervous. He arrived in a limo bus with a handful of people. His entrance was quite a spectacle. He was incredibly nice and laid-back, as one would expect. He even agreed to take a selfie with me before posing for photos with everyone in the newsroom. 
What's the most daring thing you've ever done?
I've always wanted to crash a wedding, and I finally got the chance a few years ago. My fiancé and I were at a friend's wedding at a golf club in Michigan, where two other receptions were happening at the same time. They were all connected by a big deck overlooking the course. After a while, we made our way down to one of the neighboring receptions to dance and have a couple of drinks. We received a few glances, but no one called us out. I was excited to cross that off my bucket list. 
Want to be Tri-C Famous? Email jarrod.zickefoose@tri-c.edu for a chance to be featured (or to nominate someone else!)
April 13, 2021
Beth Cieslik, 216-987-4538 beth.cieslik@tri-c.edu