Tri-C Famous: Sandra Fleming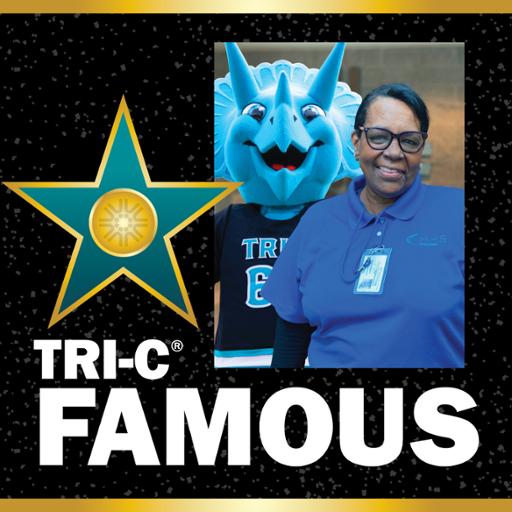 #TriCFamous is a bimonthly feature that introduces readers to the people who make the College work while providing a sneak peek into their lives off campus.
Sandra Fleming has been an environmental services contractor at Tri-C for nearly two decades. She moved to the Jerry Sue Thornton Center (JSTC) in 2018 after 15 years at the Unified Technologies Center (now the Manufacturing Technology Center). She's known throughout the building for her humor and upbeat personality. Learn more about Sandra — including her unique contribution to College culture — in this week's Tri-C Famous! 
1. What is your proudest accomplishment since joining Tri-C?
One day I was in the Alere restaurant at JSTC when I thought, "I wonder if Dr. Johnson would be proud to see a menu item named after the College mascot." That's how I came up with the idea for the Stomp Burger. I suggested it to the manager, and it's been on the menu ever since. I like to think of it as my legacy that I'll leave behind when I retire.
2. What do you like to do in your spare time?
I'm a shopaholic. Everybody who knows me knows that I can't stay out of the store. Even if I don't need anything, I've just got to buy something. I've always liked to dance, too. Years ago, a friend and I entered a dance contest just for the fun of it — and we actually won!
3. What's something most people don't know about you?
I write poetry. I can just sit down and come up with words off the top of my head and make them rhyme. For the past seven years, I've written poems to commemorate my pastor's anniversary at New Galilee Baptist Church. His wife made a collage of all the poems, and they have it hanging up in their dining room.
Want to be Tri-C Famous? Email jarrod.zickefoose@tri-c.edu for a chance to be featured (or to nominate someone else!)
January 10, 2022
By Beth Cieslik, 216-987-4538 or beth.cieslik@tri-c.edu