Tri-C Famous: Maureen Leff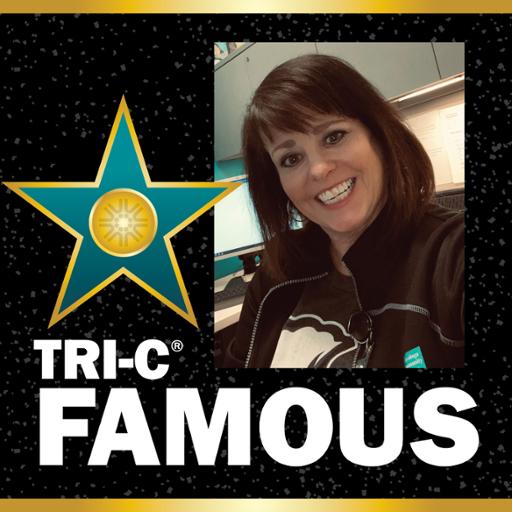 #TriCFamous is a bimonthly feature that introduces readers to the people who make the College work while providing a sneak peek into their lives off campus.
Maureen Leff joined Tri-C 11 years ago as part of the inaugural team at Brunswick University Center. As academic and student services administrator, she supports the center's overall operations (counseling, enrollment, outreach and more), handles staff and course schedules and serves as a liaison between faculty and administration. Learn more about Maureen in this week's Tri-C Famous!
1. What's your motto or philosophy on life?
"Never underestimate the importance of small things." It's a quote from The Midnight Library by Matt Haig. The book's underlying theme is appreciating life's small moments while actively pursuing the big ones. It's too easy to get wrapped up in chasing the "big" moments, like landing that perfect job or promotion, buying a home or having children. But it's the simple things like a conversation with a loved one, sharing a meal with a good friend or taking a walk and enjoying the outdoors that make life truly beautiful.
2. Tell us your best celebrity encounter story.
A friend of mine worked for a prominent record label back in the '80s and '90s, and I would go with him to many concerts and shows. I had the chance to meet a lot of pretty famous musicians and bands, but one of my favorite memories is meeting and talking with Kenny Loggins. He mentioned to me that he was writing music for a new movie and that I should go see it. That movie was Footloose!
3. What are you most proud of?
Of everything I've achieved in my life, I'm most proud of raising my three children to be kind, loving adults and intrinsically good human beings. I'm proud that I was able to influence them to pursue their passions in life — to break the mold, to be themselves and to do what makes them happy. I'm also extremely proud that I was able to instill in them respect for and acceptance of all people.
Want to be Tri-C Famous? Email jarrod.zickefoose@tri-c.edu for a chance to be featured (or to nominate someone else!)
April 11, 2022
By Beth Cieslik, 216-987-4538 or beth.cieslik@tri-c.edu