Tri-C Famous: Marisa Cargill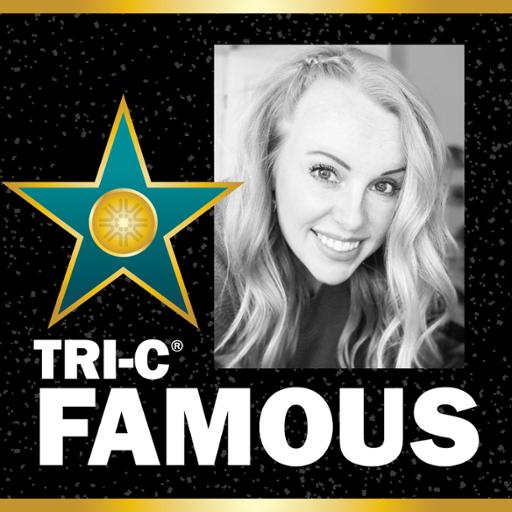 #TriCFamous is a bimonthly feature that introduces readers to the people who make the College work while providing a sneak peek into their lives off campus.
Marisa Cargill joined Tri-C's Western Campus as a counselor in 2015. After leaving the department to become a transfer specialist for two years, she returned to counseling in fall 2020. In addition to providing academic, career, personal and crisis counseling, she serves on a Stand for Racial Justice task force that aims to improve the student experience at Tri-C. Learn more about Marisa in this week's Tri-C Famous!
1. What's something most people don't know about you?
Outside of my job at Tri-C, I teach graduate students who are training to become school or mental health counselors. I'm also active in the Ohio Counseling Association, where I'm currently helping get a podcast off the ground. A less professional example would be that I love learning life hacks and dad jokes from TikTok.
2. If you could hang out with any fictional character, who would it be and why?
The Genie from the 1992 version of Disney's Aladdin. Obviously, it would be great to have some wishes granted. But he's also fun and really comes through for his friend, helping Aladdin consider all the possibilities life has to offer him. Plus, he was voiced by the incredible Robin Williams, who brought joy and laughter to so many — and still does today. 
3. What's your motto or philosophy on life?
Hope and optimism are the foundation of courage and bravery. As the song "When You Believe" by Mariah Carey and Whitney Houston says, "There can be miracles when you believe; though hope is frail, it's hard to kill." It isn't always easy to paint sunshine on the page when your world is feeling super cloudy, but I work to find even the smallest glimmer of light to carry me through those times.
Want to be Tri-C Famous? Email jarrod.zickefoose@tri-c.edu for a chance to be featured (or to nominate someone else!)
May 23, 2022
By Beth Cieslik, 216-987-4538 or beth.cieslik@tri-c.edu