Tri-C Famous: Katie Ponsart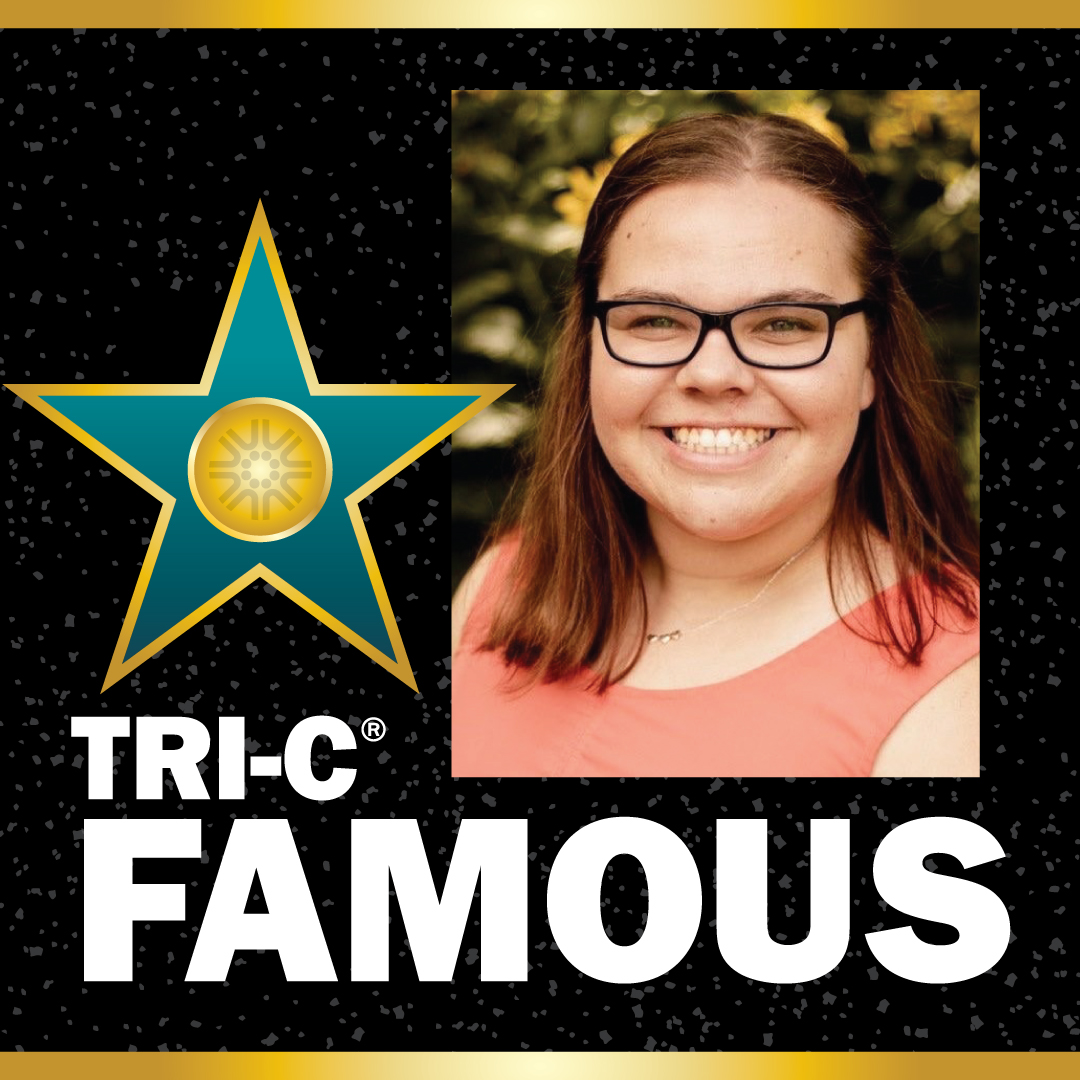 #TriCFamous is a bimonthly feature that introduces readers to the people who make the College work while providing a sneak peek into their lives off campus.
Katie Ponsart has been a Student Life advisor at Tri-C's Westshore Campus since November 2021. She graduated from Mount Vernon Nazarene University in 2020, at the height of the COVID-19 pandemic. Before joining the College, she was an assistant manager at Torrid and sold plants at an independent nursery, where she also cared for donkeys. (Yes, you read that right.) Learn more about Katie in this week's Tri-C Famous!
1. Tell us about your pet(s).
I have a 6-month-old black-and-white kitten named Mango. I got her in January from a rescue. She was found in a pile of dirt in the middle of downtown Cleveland at just 3 weeks old, and she's missing a small part of her right ear. She loves to cuddle up and watch TV. Her favorite things are playing fetch, attacking my legs when I walk, hiding behind doors and then jumping out, and of course, treats!
2. Does your family have any unique traditions?
On Christmas Eve, my sister and I pile into the car with our parents and drive to a small development close to where they live. The driveways are lined with luminaries, and the yards are full of Christmas light displays. With hot chocolate and cookies in hand, we slowly drive around to look at all the lights while listening to Christmas music. Then we head back to my parents' house and open matching Christmas pajamas. We've done this ever since we were little, and it's my favorite holiday tradition. 
3. Tell us about one of your hobbies. 
One of my hobbies is making candles. I received a small starter kit a few years ago and started making them as gifts. I enjoyed it so much that I began selling them to friends and family and then got my first table at a craft fair. Now my mom and I regularly do holiday craft fairs where she sells homemade chocolates and I sell my candles. (K & K candles and chocolates — for all your gift basket needs!)
Want to be Tri-C Famous? Email jarrod.zickefoose@tri-c.edu for a chance to be featured (or to nominate someone else!)
April 25, 2023
By Beth Cieslik, 216-987-4538 or beth.cieslik@tri-c.edu