Tri-C Famous: John Rasel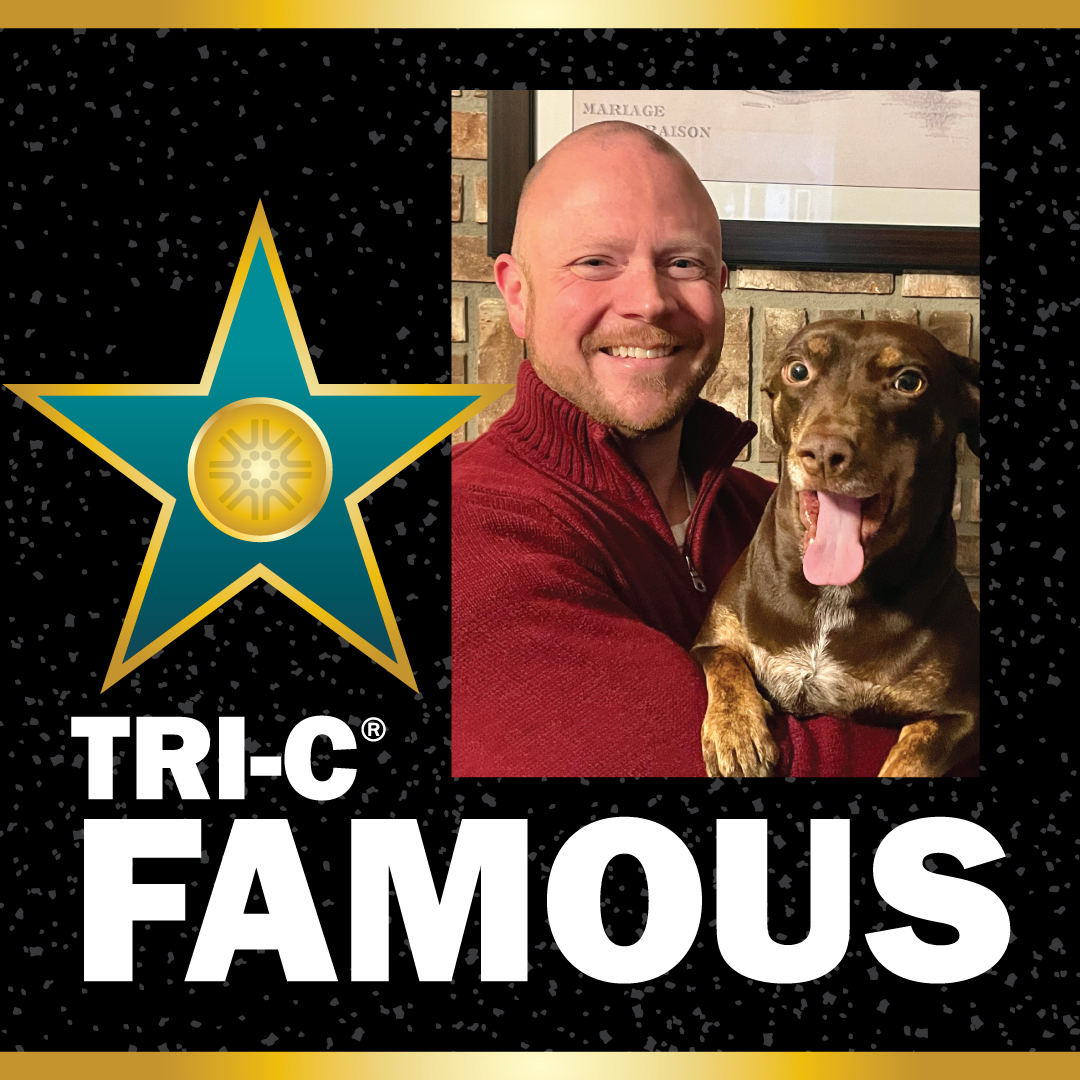 #TriCFamous is a bimonthly feature that introduces readers to the people who make the College work while providing a sneak peek into their lives off campus. 
 John Rasel is an assistant professor/librarian at Tri-C's Eastern Campus, where he has helped students identify, select and cite sources for their research papers since 2013. He also plans events at the library, helps curate its collection and co-chairs the Common Reading program. Learn more about John — including why you might find him with his nose literally inside a book — in this week's Tri-C Famous!
1. Tell us about your pet(s).
Last year my wife and I drove 9½ hours to southern Tennessee to adopt our rescue dog, Molly. She's a mixed breed that looks like a standard dachshund, but with a too-square head and too much tail. She loves to be plastered against her people, nibbles noses to show affection and enlists her low center of gravity to haul us on mile-long speed walks around the neighborhood. I'm a huge advocate for adopting rescue pets; the emotional dividends are fantastic.
2. Do you have an oddly specific talent? Tell us about it!
During college, I worked in and repaired books for the library. There was a lot of cutting, gluing and sanding involved. Inhaling those desiccated book particles for months on end is how I developed my oddly specific talent: I can determine the date that most books were printed, down to about five years, just by smelling them.
3. Tell us about one of your hobbies.
I love collecting historical items. On my wall at home is a page from an 1870 atlas that shows the house where I grew up. At the office, a WWII-era U.S. Army coffee mug serves as my pencil holder. I have a number of advertisements from Cleveland's Baker Motor Vehicle Company (one of the first electric car companies in the world), and my latest project was framing a collection of U.S. Army specialist insignia from the Vietnam era. 
Want to be Tri-C Famous? Email jarrod.zickefoose@tri-c.edu for a chance to be featured (or to nominate someone else!)
February 14, 2023
By Beth Cieslik, 216-987-4538 or beth.cieslik@tri-c.edu