Tri-C Famous: Dwayne Keeney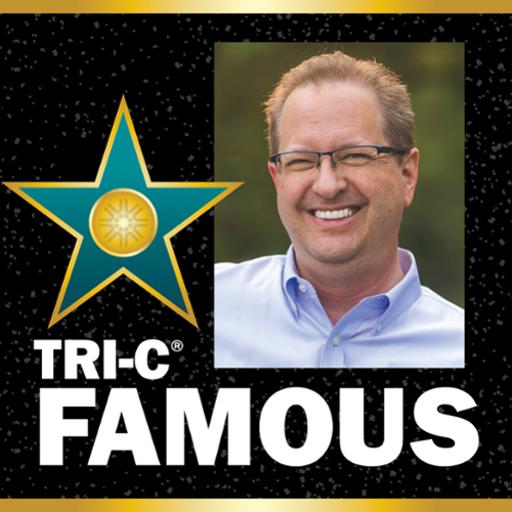 #TriCFamous is a bimonthly feature that introduces readers to the people who make the College work while providing a sneak peek into their lives off campus.
Dwayne Keeney is the associate dean of liberal arts at Tri-C's Eastern Campus. Hired in 2002, he served as senior research and planning analyst in the College's institutional research department for more than a decade before assuming the first in a string of academic leadership roles. Learn more about Dwayne (though not enough to be able to answer his security questions) in this week's Tri-C Famous! 
1. What are your Top 3 favorite movies?
I could never pick just three, so I'll narrow the scope to Humphrey Bogart movies from the 1940s: To Have and Have Not, The Treasure of the Sierra Madre and The Big Sleep. Notice what's not on that list? Casablanca is fine, but [Lauren] Bacall has got it going on over [Ingrid] Bergman any day.
2. Have you ever won a contest? What was it, and what did you win?
I was third-grade tetherball champ at my elementary school. I could tell you which school, which city and what color the certificate of achievement was printed on, but [Information Technology Services executive director] Peter Anderson taught me not to put those kinds of personal details out into the public sphere. Thanks to him, my passwords and security questions remain secure.
3. Tell us your best "celebrity encounter" story.
In the early 1990s I worked at the 3 Penny Cinema in Chicago. Since we only had two screens, we'd hold patrons in the lobby between screenings. Non-customers would sometimes come in to ask patrons for money, and it was up to me to let them know they couldn't do that.
One evening I observed a rather scruffy middle-aged gentleman in worn, ill-fitting clothes standing in the crowd. As I approached and asked to see his ticket, the fashionably dressed younger woman next to him handed me two ticket stubs. I thanked them, and as they moved away, he looked at me and nodded. It was Bob Dylan. I'd just tried to kick Bob Dylan out of the 3 Penny Cinema.
Want to be Tri-C Famous? Email jarrod.zickefoose@tri-c.edu for a chance to be featured (or to nominate someone else!)
January 25, 2022
By Beth Cieslik, 216-987-4538 or beth.cieslik@tri-c.edu