Tri-C Famous: Debbie Benz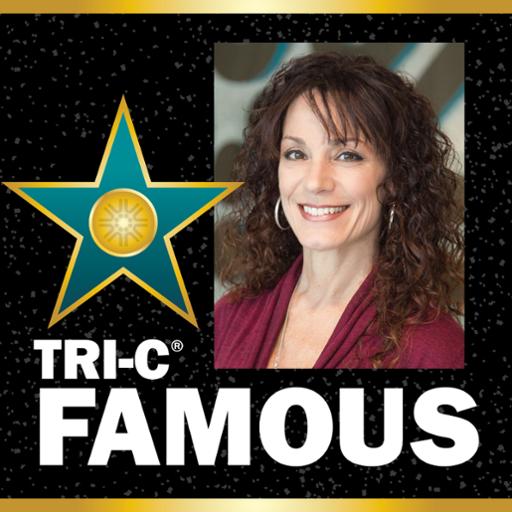 #TriCFamous is a bimonthly feature that introduces readers to the people who make the College work while providing a sneak peek into their lives off campus.
Debbie Benz has been a full-time visual design specialist at Tri-C for the past 8 years. She recently added "project manager" to her title, taking responsibility for assigning projects to a team of four graphic designers and two copy editors. She is also a Fall 2021 graduate, having earned an Associate of Arts in visual communication and design from Tri-C on Dec. 16. Learn more about Debbie in this week's Tri-C Famous!
1. What are you most proud of?
Finally earning a college degree. I took classes here and there for years, but I always felt discouraged. I wondered if I even needed a degree, since I worked as a graphic designer for more than 30 years — 25 of them as owner of my own company. But after I joined Tri-C, I felt the pressure. (Working at a college without a degree?) Then, a couple years ago, I heard about Credit for Prior Learning. That's when I decided it was time. And here I am graduating. It feels amazing!
2. Tell us your best "celebrity encounter" story.
In the early 1980s, when Robert Plant of Led Zeppelin was touring solo, a friend and I saw him perform at the Richfield Coliseum. We were approached by a man with credentials, who asked us if we wanted to meet Robert after the show. Obviously, we couldn't turn that down! We also met Phil Collins, who was playing drums on the tour.
3. What's something most people don't know about you?
I have a twin sister who is also my best friend. We talk every day and live less than 10 minutes from each other. We always thought we were fraternal twins until we took a 23andMe test. Last Mother's Day, we found out we're actually identical. That explains a lot!
Want to be Tri-C Famous? Email beth.cieslik@tri-c.edu for a chance to be featured (or to nominate someone else!)
December 21, 2021
By Beth Cieslik, 216-987-4538 or beth.cieslik@tri-c.edu