Tri-C Famous: Cory Molner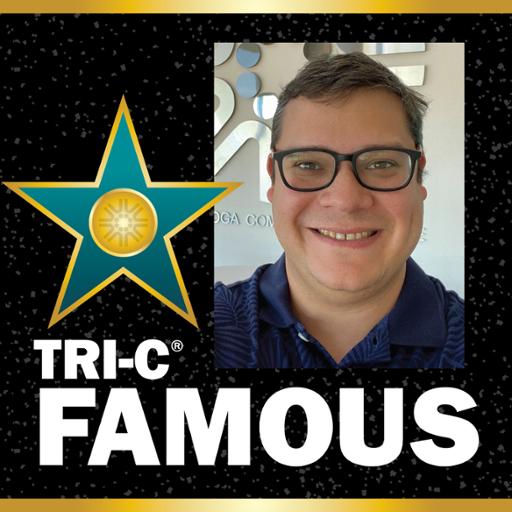 #TriCFamous is a bimonthly feature that introduces readers to the people who make the College work while providing a sneak peek into their lives off campus.
Cory Molner joined Tri-C's Eastern Campus in 2014. As Learning Commons supervisor, he oversees media services and academic technology support for the campus. Recently elected president of Tri-C's Sexual Orientation and Gender Equality (SOGE) Council, he begins his two-year term July 1. Learn more about Cory — including his side gig as artistic director for a local theater company — in this week's Tri-C Famous! 
1. Tell us about your pets.
I have two rescue dogs. Apollo, 10, is a jet-black beagle/Jack Russell/Boston terrier mix. He's an old man who enjoys cuddling and long naps in sunbeams. Last year, my husband and I adopted a Doberman/lab mix named Kona. At 1 ½ years old, she's a ball of energy who loves to chase squirrels in our big backyard. She absolutely loves Apollo; he tolerates her.
2. What's your motto or philosophy on life?
Do it right the first time.
3. If you were famous, what would you be famous for?
I run convergence-continuum, a small professional theater based in Cleveland's Tremont neighborhood. The company has been around for about 20 years, and we're working hard to increase our notoriety at the local and national levels. As a theater that produces new works from living playwrights in original and interesting ways — with a focus on marginalized populations — I really feel we can make an impression in the arts scene. That's what I'd like to be recognized for.
Want to be Tri-C Famous? Email jarrod.zickefoose@tri-c.edu for a chance to be featured (or to nominate someone else!)
June 28, 2022
By Beth Cieslik, 216-987-4538 or beth.cieslik@tri-c.edu