Tri-C Famous: Brigitte Matchett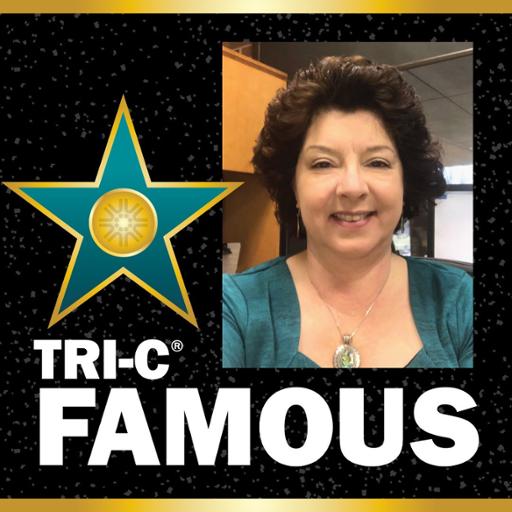 #TriCFamous is a bimonthly feature that introduces readers to the people who make the College work while providing a sneak peek into their lives off campus. 
Brigitte Matchett is administrative assistant to the Tri-C Western Campus president. She joined the College's Health Careers department in 2018 before assuming her current role where, among other duties, she has the important task of managing the campus budget. But Brigitte is not only good with numbers — she's also a talented artist. Learn more about her creative pursuits in this week's Tri-C Famous. 
What's the most daring thing you've ever done?
I rode a mule into and back up the Grand Canyon from the North Rim. I enjoyed riding the mule, but I wasn't a fan of the narrow path or the steep drop-off. (The mules like to look over the edge of each hairpin turn before continuing down the path.) Although the ride tested my resolve, the views were stunning and well worth the ride. 
Tell us about one of your hobbies.
My favorite hobby is silversmithing. Growing up, I learned lapidary (cutting and polishing stones) from a gentleman in my neighborhood. I started silversmithing in high school, and I'm still learning new techniques for creating unique pieces of jewelry. I participate in several arts and crafts shows each year, and I have my own website. 
Have you ever won a contest? What was it, and what did you win?
In 2011, I won two awards and two cash prizes for a triptych (three-part photo) I created. I was using a vintage dollhouse for a depth-of-field project when my cat, Merlin, suddenly stuck his head into the dining room. That gave me the idea for the triptych, which showed Merlin popping into different rooms of the dollhouse. I sold the piece, but the original hangs in my foyer. 
Want to be Tri-C Famous? Email jarrod.zickefoose@tri-c.edu for a chance to be featured (or to nominate someone else!)
March 09, 2021
Beth Cieslik, 216-987-4538 beth.cieslik@tri-c.edu