Tri-C Fall Commencement Celebrates Achievements of Nearly 2,100 Graduates
Ceremony for Class of 2022 takes place Dec. 15 at Wolstein Center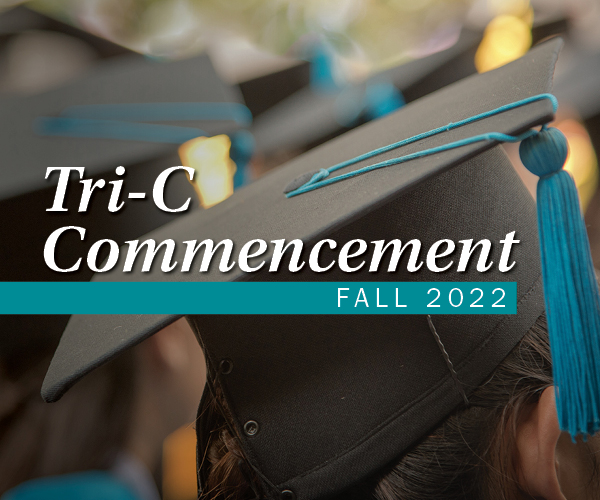 CLEVELAND — Cuyahoga Community College (Tri-C®) will celebrate the academic achievements of nearly 2,100 petitioning graduates during its Fall Commencement ceremony at 6 p.m. Thursday, Dec. 15. 
 
The College will confer nearly 2,800 degrees and certificates of completion this fall. The graduate total reflects the ongoing impact of College programs and initiatives designed to keep students on the path to associate degrees and certificates. The ceremony will be available for viewing on Tri-C's Commencement webpage and the College's YouTube pages. 
 
Tri-C President Michael Baston said he is eager to celebrate with the Class of 2022 as they move into the next phases of their journeys. 
 
"The individuals graduating come from a wide range of background," said Baston. "They came to Tri-C for many different reasons. But they all arrived as dream-seekers and leave us as dream-builders, who are real-world ready with the knowledge, tools and support to turn their vast potential into reality." 
 
Laila Garland of South Euclid, who will graduate with an Associate of Arts degree, was selected by her classmates as the student speaker for the ceremony. Garland has attended Tri-C for three semesters, beginning in her senior year of high school. She took part in her campus chapter of Phi Theta Kappa this fall semester while pursuing her degree. 
 
She plans to attend The Ohio State University in the spring to earn a bachelor's degree in psychology with a minor in dance. Ultimately, she hopes to earn her Ph.D., tackle the stigmas of mental health care and seek change in communities where it may be unaffordable. 
 
Read more about Garland and other high-achieving graduates on the College's Commencement webpage. 
 
This year's commencement ceremony will take place at Cleveland State University's Wolstein Center, located at 2000 Prospect Ave. in Cleveland. 
December 15, 2022
MEDIA CONTACT: Anthony Moujaes, 216-987-3068 or anthony.moujaes@tri-c.edu