Tri-C Eastern Campus President Joins Regional Resource Series Podcast
Todd Kitchen talks about campus's post-pandemic efforts and future goals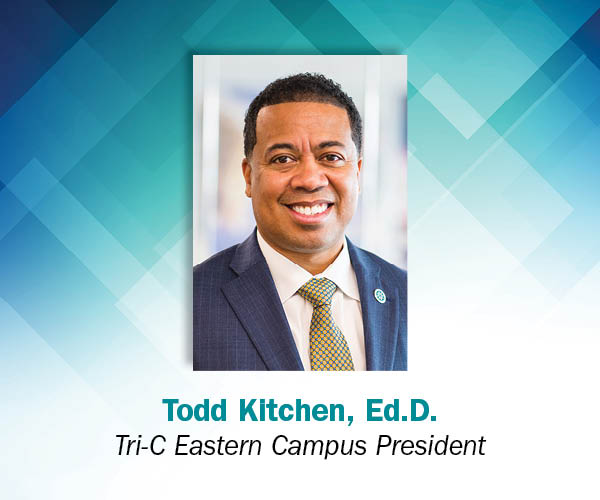 Todd Kitchen, president of the Eastern Campus at Cuyahoga Community College (Tri-C®), joined Woodmere Mayor Ben Holbert on a recent episode of the Regional Resource Series video podcast to share how the Eastern Campus is thriving in a post-pandemic world.
Kitchen spoke with Holbert about his areas of focus since becoming campus president in 2021, which include: 
Strengthening relationships in the community post-pandemic
Educating students and faculty about artificial intelligence and other advancing technologies and how they will impact education in the future
Expanding entrepreneurship education for students at the Eastern Campus and nearby Corporate College® East
Promoting the College to nontraditional students with the message that they can begin their educational journeys at Tri-C despite where they are in life
Engaging younger students with Tri-C via College Credit Plus, which allows students in grades seven through 12 to receive college credit prior to high school graduation
Developing and implementing the next steps for the Eastern Campus
Kitchen ended the podcast with a message to prospective students:
 
"If there is any question about what your future looks like, you have a team of people at Cuyahoga Community College, and our job is to help you figure out what you have the ability to do," he said. "We don't want you to just try — we want you to commit, and if you'll allow us to meet you where you are, understand what your goals and dreams are, we'll connect you to the right people to see those dreams become a reality."
The Regional Resource Series podcast brings viewers face-to-face with the key players in organizations that help the region grow. Each episode delves into initiatives and programs that can make an impact.
View the episode on YouTube or the Cuyahoga East Chamber of Commerce website.
October 24, 2023
By Erik Cassano, 216-987-3577 or erik.cassano@tri-c.edu