Tri-C Earns Purple Star Award for Veteran Support
Governor Mike DeWine and ODHE Chancellor Randy Gardner announce first awards to colleges and universities for support of student veterans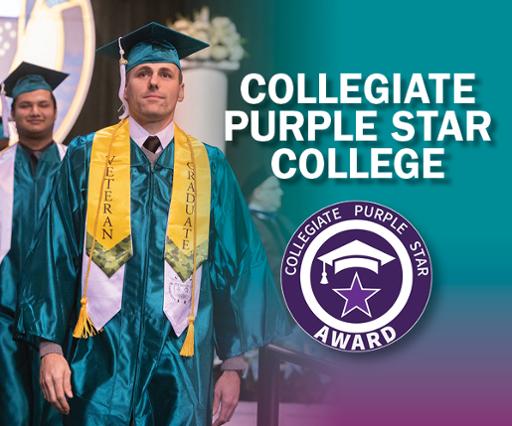 Cuyahoga Community College (Tri-C®) is one of Ohio's first institutions of higher education to achieve Collegiate Purple Star campus designation for supporting student veterans.
Ohio Governor Mike DeWine and Ohio Department of Higher Education (ODHE) Chancellor Randy Gardner announced the inaugural group of 33 Collegiate Purple Star campuses on May 26.
"Tri-C is deeply committed to serving veterans and supporting them throughout their educational journey," said JaNice Marshall, vice president of Access and Community Connections at Tri-C. "We have supported veterans, active-duty military, members of the National Guard and reserves and their families for 50-plus years. This distinction reflects the ongoing commitment of our Veteran and Military-Connected Services team to those who served."
The Purple Star Award recognizes schools that make a major commitment to students and families connected to the nation's military. While expanding the awards to the collegiate level is new this year, Ohio's pre-K through 12 schools have been eligible for similar awards for the past five years. Ohio is the first state in the nation to offer these designations.
Tri-C has also been designated a Military Friendly® School for 13 consecutive years for its commitment to serving veteran and active military students and their families. The College works with thousands of military families each year through its veteran services centers, which offer a full array of support services to help veterans reach educational and career goals as they transition from soldiers to civilians.
Centers are located at Eastern Campus in Highland Hills, Metropolitan Campus in Cleveland, Western Campus in Parma, Westshore Campus in Westlake and the Louis Stokes VA Medical Center in Cleveland.
"With everything from scholarship resources to campus support teams, Cuyahoga Community College goes above and beyond in showing its support for its military-connected students and families," Gardner said. "Tri-C is a worthy addition to this first class of Collegiate Purple Star campuses."
Learn more about Tri-C's commitment to attracting and supporting military students at 
tri-c.edu/veterans.
June 08, 2022
By Anthony Moujaes, 216-987-3068 or anthony.moujaes@tri-c.edu