Tri-C, CSU Presidents Discuss Lifting Women, People of Color in Higher Education
Workforce diversity seen as crucial to region's economic growth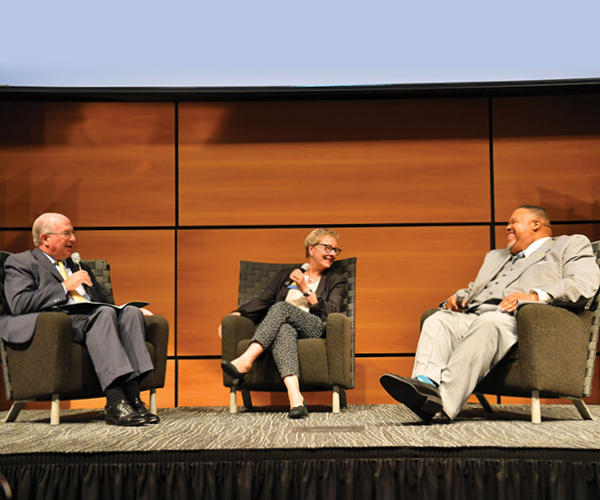 If Northeast Ohio is to build the diverse workforce needed for economic growth within the next decade, the region's institutions of higher education will play a vital role in attracting and retaining minority and female talent. 
Cuyahoga Community College (Tri-C®) President, Michael Baston, and Cleveland State University President, Laura Bloomberg, discussed regional workforce strategies, opportunities for the future, and challenges and solutions in their experience with women and minority students. 
Their conversation took place at an event centered on Team NEO's multi-part report "Misaligned Opportunities," which focuses on how gender and racial inequities lead to unequal economic outcomes and looks into possible solutions that address those disparities. The event also reviewed findings from the second edition of "Lost Opportunities," a report focused on how higher wages, education, and STEM occupation growth are key to women's economic vibrancy. 
"We have to be more intentional about expanding the concept of college," Baston said. "It is not just degree programs. We have to redefine and demystify this concept of college." 
He cited ideas such as credit for prior learning and work experience, community learning centers to minimize student travel, and shorter-term certificates to help diversify the region's colleges and universities. 
Crain's Cleveland Business covered the event. (Subscription required to view.) 
August 23, 2022
By Anthony Moujaes, 216-987-3068 or anthony.moujaes@tri-c.edu