Tri-C Commemorates the Battle of the Bulge
Dec. 15 event at Western Campus honors 75th anniversary of World War II battle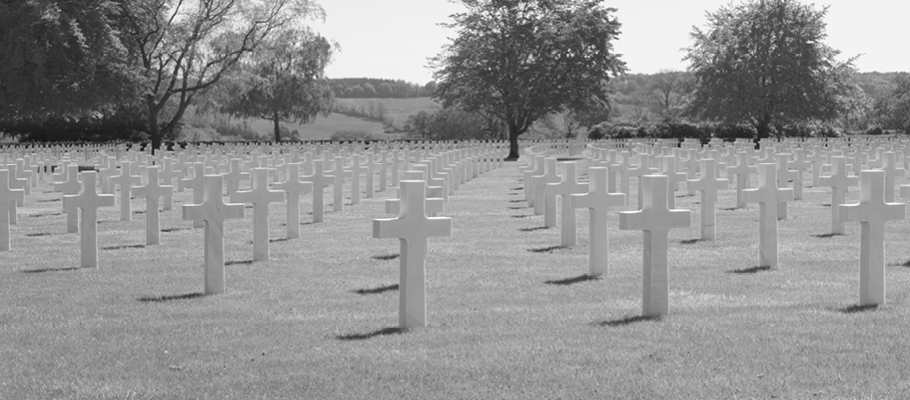 Cuyahoga Community College (Tri-C®) will commemorate the 75th anniversary of the Battle of the Bulge — the German army's last major offensive of World War II — during an afternoon ceremony Sunday, Dec. 15, at Western Campus.
The remembrance begins at 2 p.m. in the B Atrium of the Liberal Arts building on the southwest side of campus. The free community event will include the presentation of the video documentary Uncommon Sons: Cleveland's Contribution to the Battle of the Bulge.
The video includes an as-yet-unseen introduction by the late Dante Lavelli, a Hall of Fame wide receiver for the Cleveland Browns who fought in the Battle of the Bulge while serving in the U.S. Army. (The 28-minute documentary debuted in 1994 on the 50th anniversary of the battle.)
The Battle of the Bulge, also known as the Ardennes Offensive, began Dec. 16, 1944, and raged for six weeks. Intense fighting stretched across 80 miles of thick forest in brutal cold and blizzard conditions.
A massive German force of more than 200,000 soldiers initially pushed through outnumbered American and Allied lines, creating the "bulge" that gave the battle its name.
The Allies held firm against the Nazi advance, though, and — with reinforcements arriving — eventually claimed victory. The Americans suffered some 75,000 casualties in the battle. The Germans lost 80,000 to 100,000. 
"The Battle of the Bulge has been called the greatest American battle of World War II," said James Banks, history professor emeritus at Tri-C and founder and director of the College's Crile Archives. "The valor shown in that forest deserves to be remembered throughout time."
The program's featured speaker will be Lt. Col. Chris Carter of the U.S. Army's 101st Airborne Division in Fort Campbell, Kentucky. The "Screaming Eagles" of the 101st played a critical role in the Battle of the Bulge with their defense of the town of Bastogne.
Several veterans of the battle will also attend the commemoration.
A community reception will follow the ceremony, which is presented by the Tri-C Veterans Initiative and the Crile Archives. Call 216-987-3193 for more information on the event. Western Campus is located at 11000 Pleasant Valley Road in Parma.
December 10, 2019
John Horton, 216-987-4281 john.horton@tri-c.edu