'Tri-C Classical Piano Series' Presents Steinway Artist Alexandre Dossin
Free recital takes place Oct. 9 at Cleveland Museum of Art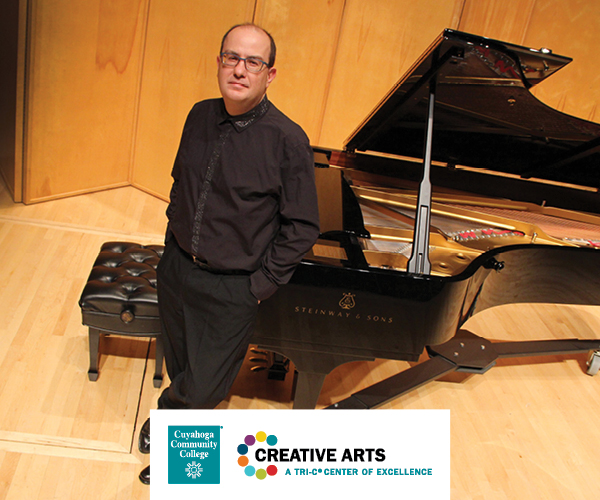 Acclaimed pianist and Steinway Artist Alexandre Dossin will take audience members on a journey through six decades of the music of George Walker in an upcoming recital at the Cleveland Museum of Art. The performance is part of the Classical Piano Series at Cuyahoga Community College (Tri-C®).
The free event begins at 2 p.m. Sunday, Oct. 9, in the Cleveland Museum of Art's Gartner Auditorium (11150 East Blvd.) in University Circle. Seating is on a first-come basis.
"We are very excited to open our 16th season with Alexandre," said Emanuela Friscioni, director of Tri-C's Classical Piano Series. "This is the debut of both the series and Dossin's tribute to eminent African American composer George Walker, which celebrates 100 years since his birth."
Originally from Brazil, Dossin graduated from the Moscow State Tchaikovsky Conservatory and holds a doctorate from the University of Texas at Austin (UT-Austin). He served as assistant to Sergei Dorensky at the Tchaikovsky Conservatory and to Willliam Race and Gregory Allen at UT-Austin. 
Dossin received First Prize and Special Prize at the 2003 Martha Argerich International Piano Competition in Buenos Aires, Argentina. Other international awards include the Silver Medal and Second Honorable Mention in the Maria Callas Grand Prix and Third Prize and Special Prize in the Mozart International Piano Competition.
He has released numerous recordings with several labels, including Naxos and Schirmer. His work has been praised by Diapason, Financial Times, Fanfare, American Record Guide, Clavier and other international publications.
Dossin serves as vice president of the American Liszt Society and president of its Oregon Chapter. He is a recipient of the prestigious Faculty Fund for Excellence at the University of Oregon, where he serves as professor and chair of piano.
Dossin's performance is the first in the 2022-2023 season of Tri-C's Classical Piano Series. The series celebrates its 16th year of introducing emerging and established pianists from all over the world to the Greater Cleveland community.
Learn more at tri-c.edu/performingarts.
September 30, 2022
By Anthony Moujaes, 216-987-3068 or anthony.moujaes@tri-c.edu