Tri-C Celebrates 30th Anniversary of Ron Mottl Field
Tuesday celebration at Western Campus included baseball field's namesake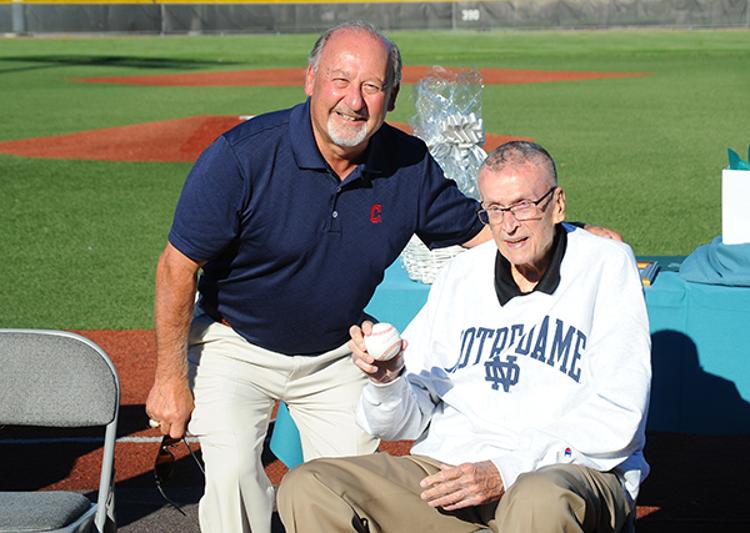 Since its opening in 1991, Ron Mottl Field has been the home stadium for the Cuyahoga Community College (Tri-C®) baseball team. Located in the northeast corner of the College's Western Campus in Parma, the field has seen many wins and memories over the years.

A group of College and community leaders gathered at the field Sept. 28 to commemorate its 30th anniversary and celebrate its importance — not only to Triceratops baseball, but to Parma, surrounding communities and local baseball culture.

Speakers at the event included Ron Mottl, a former U.S. Representative and the field's namesake; Ron's son Mickey Mottl, Parma Mayor Timothy DeGeeter, Parma City Council President Sean Brennan, Cleveland Indians vice president of public affairs Bob DiBiasio and Tri-C Western Campus President Lisa Williams.

"Baseball teams at all levels and from across the County use Ron Mottl Field because of its outstanding condition," Williams said during yesterday's commemoration and rededication event. "Ron Mottl's efforts and Tri-C's commitment have made [the field] a valuable community resource."

Ron Mottl Field is widely considered one of the finest community college baseball facilities in the Midwest. The field features an artificial turn infield and natural grass outfield, an eight-tower lighting system for night games, batting tunnels and enclosed press box.

The cities of Parma, Parma Heights and Middleburg Heights issued proclamations in honor of the field's 30th anniversary. The event concluded with the presentation of a Bob Feller-signed baseball by DiBiasio to Ron Mottl. Feller, an Indians pitching legend, passed away in 2010.

Triceratops baseball is scheduled to resume at the field in spring 2023, as part of the relaunch of all College athletic programs during the 2022-2023 academic year.
September 29, 2021
Erik Cassano, 216-987-3577 or erik.cassano@tri-c.edu