Tri-C Building Projects Claim Awards of Excellence
Metro Campus Center and Western Campus STEM Center honored by NAIOP Northern Ohio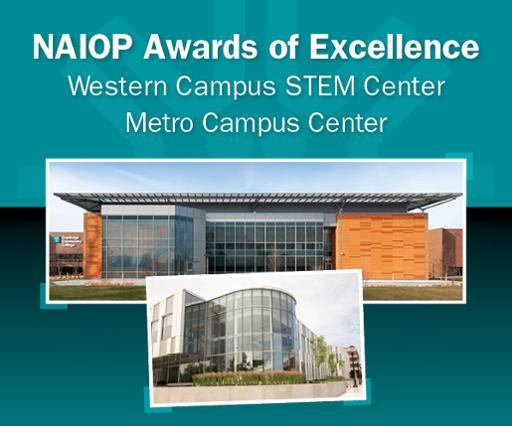 Cuyahoga Community College (Tri-C®) is reimagining its campuses in award-winning ways. 
Two recent projects by the College — the rebuild of Metropolitan Campus Center and the construction of the Western Campus STEM Center — received a pair of 2020 Awards of Excellence from NAIOP Northern Ohio. 
The annual awards program recognizes design and development successes across the region. NAIOP is also known as the Commercial Real Estate Development Association. 
The Metro Campus Center makeover orchestrated by Bialosky Cleveland earned praise inside and out from the organization. The project was named Education Exterior Renovation of the Year and Education Interior Renovation of the Year. 
The renovation expanded Metro Campus Center from roughly 70,000 square feet to 106,000 square feet. It now serves as the heart of Tri-C's downtown campus, bringing new energy to an academic setting more than a half-century old. 
The NAIOP awards add to a list of accolades for the building. It previously received a pair of 2019 Design Awards from the Cleveland chapter of the American Institute of Architects and LEED® Gold certification from the U.S. Green Building Council. 
The Western Campus STEM Center also earned two NAIOP awards. It was honored as NAIOP's Education Architecture Project of the Year and Education Interior Design of the Year. The College worked with two firms — Weber Murphy Fox and Ellenzweig — on the addition. 
The 60,000-square-foot center was designed to offer innovative learning opportunities in science, technology, engineering and math, or STEM. The project reflects the College's efforts to address the increased need for STEM graduates in the workforce. 
NAIOP announced the awards Sept. 15 during a virtual ceremony. Tri-C opened both the Metro Campus Center and the Western Campus STEM Center in 2019.
September 22, 2020
John Horton, 216-987-4281 john.horton@tri-c.edu