Tri-C Appoints Shana Marbury as Executive VP of Workforce Development
William Gary to become senior workforce advisor to College president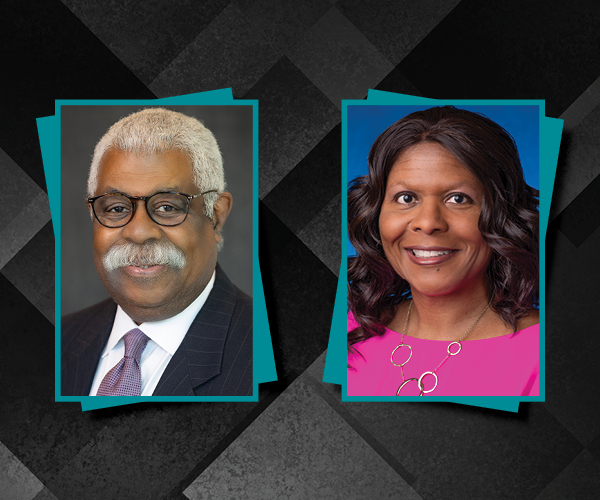 Cuyahoga Community College (Tri-C®) today announced two significant appointments within its workforce division that will accelerate and expand the College's ability to meet critical talent and workforce needs in Northeast Ohio. Shana Marbury will join Tri-C as executive vice president of Workforce, Community and Economic Development (WCED) on Nov. 1, succeeding William H. Gary, who will transition to the new role of senior advisor on national workforce issues.
"This exceptional combination of talent will allow Tri-C to move forward quickly and effectively to address both national and local workforce issues," said Tri-C President Michael Baston. "Shana will lead our workforce team, deepen relationships with employers to strengthen program alignment and create more short-term credentials to quickly train people for in-demand, well-paying jobs. William will use his experience and connections at the national level to monitor and advise on national workforce challenges, policies and programs, allowing us to more effectively respond to and address these issues at the local level."
Marbury comes to Tri-C from the Greater Cleveland Partnership (GCP), where she was general counsel and senior vice president of talent. Her duties included building education and workforce development solutions for youth and adults and creating a skilled talent pipeline for regional employers. She also led GCP's talent team in driving postsecondary credential/degree completion, work-based learning and high-school career exposure strategies with an emphasis on tech talent development.
Early in her career at GCP, Marbury led a multi-stakeholder education coalition on behalf of Cleveland's business community, successfully advocating the Ohio Legislature to pass "The Cleveland Plan for Transforming Schools," the City's blueprint for improving PreK-12 educational outcomes for all public and partnering charter school students. Over the last several years, she has secured $3 million in philanthropic funding to support multiple education and workforce initiatives, including $1.5 million in support of sector partnerships in manufacturing and information technology.
Most recently, Marbury helped GCP secure a $5.8 million Apprenticeship Building America grant from the U.S. Department of Labor to build an equitable apprenticeship hub for the region. It will establish a network of registered apprenticeships in sectors including insurance, banking, facilities maintenance and health care, while accelerating existing IT programs.
 
Marbury is a member of the Ohio Governor's Executive Workforce Board and serves as vice chair of the Cleveland/Cuyahoga County Workforce Development Board. She was recently selected for Youth Opportunities Unlimited's George Voinovich Award, which honors an individual or company bringing stakeholders together to solve problems and formulate viable life solutions for young people via education and/or workforce development.
"Tri-C plays a critical role in building a vibrant regional economy, and I am eager to build on the strong foundation that William Gary has created over the last eight years," Marbury said. "I look forward to bringing my experience to Tri-C and continuing to collaborate with local businesses to shape the workforce of tomorrow."
Gary has led the Workforce, Community and Economic Development division since 2014, elevating the College's workforce development programming to statewide and national prominence and restructuring Tri-C's workforce programs and services to better align with the needs of Northeast Ohio's key business and industry sectors.
This included increasing enrollment; contributing to the establishment of Tri-C's Centers of Excellence in Manufacturing, Public Safety, Hospitality Management and Information Technology; and increasing the number of certificates awarded from 1,000 annually in 2014 to more than 16,000 to date.
He also oversaw the acquisition of more than $24 million in grants for student scholarship support, new program development and administration, and equipment in support of technical programming. 
Tri-C's community engagement initiatives were enhanced through Gary's service on the boards of numerous community organizations including the Fund for Our Economic Future, UH/Southwest General Health, Ohio Means Jobs, Global Cleveland, OACC Workforce League and Greater Cleveland Urban League, among many others.
He was recently honored with a 2021 Northeast Ohio Corporate College Smart 50 Award.
Gary also has extensive experience in government relations and legislative affairs in sectors such as steel manufacturing, health care, information systems, telecommunications, aviation and manufacturing. He was one of only 15 workforce leaders across the country named to the Health Care Industry Recovery Panel, created to advise U.S. President Joe Biden's administration.
He is past president of the National Council on Workforce Education, an association of community colleges and workforce and education professionals affiliated with the American Association of Community Colleges. He has also testified before Congressional committees on emerging workforce issues.
"I am very excited to continue serving Tri-C in this new role," Gary said. "I look forward to helping Shana transition into the College and WCED as I shift my focus to the critical national workforce issues affecting the region and Tri-C."
September 27, 2022
By Anthony Moujaes, 216-987-3068 or anthony.moujaes@tri-c.edu