Tri-C and Team NEO Release Talent Reports
Data-driven reports reveal insights to creative solutions to close the demand/supply talent gap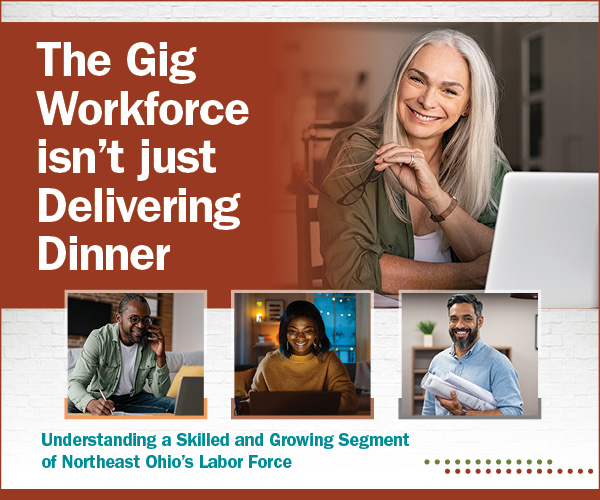 Cuyahoga Community College (Tri-C®) and Team NEO released complementary reports providing insights on the current state of the talent workforce and potential solutions to help the Northeast Ohio Region be more competitive. Tri-C released its report, The Gig Workforce isn't just Delivering Dinner, which examines the rise and potential of the gig workforce, while Team NEO Released its 7th edition of Aligning Opportunities, a resource to aid in addressing the demand and supply imbalance in the region's workforce. The Aligning Opportunities report is produced in partnership with Delta Dental and with the generous support from Deaconess Foundation, Goodwill Industries of Greater Cleveland & East Central Ohio, PNC, Sherwin-Williams, and Swagelok.      
The Gig Workforce report explores the nature of gig work, questioning some preconceived notions about who gig workers are, the types of work they do, and how they are a largely untapped asset in the region. It examines the potential for integrating gig workers into the regional workforce while fulfilling their needs for ongoing education and support.
"Gig workers are a source of untapped talent that can address our regional skills gap," said Michael A. Baston, president of Tri-C. "They will propel us all forward if we nurture it properly. The opportunity to integrate and support gig workers into the labor force can widen the talent pipeline for businesses."
Among the key findings in Tri-C's Gig Workforce report:
Overall, there were nearly 87,000 gig workers in Greater Cleveland, with 40.6% of those in management, business, science and arts occupations in 2021.
The skill sets possessed by gig workers are largely in sync with those desired by employers.
Gig workers can often save employers significant time and resources when compared with the hiring process and benefits packages related to bringing on full-time employees.
New in this year's Aligning Opportunities report are insights into post-COVID trends, turnover rate trends, and ways for businesses to address talent retention in high-turnover industries.
This year's report also features an in-depth look at four unique labor force demographics: communities of color, working women, workers with disabilities, and veterans in the workforce. Team NEO explores how businesses can go above and beyond to engage these segments and acknowledge the need to measure progress in closing the talent supply/demand gap within our changing labor landscape.
"I am excited about the opportunities to reshape and expand our region's economy," said Team NEO's Chief Executive Officer Bill Koehler. "A key decision input and contributor to success is talent readiness—properly trained, credentialed, and motivated individuals."
Notable findings in Team NEO's Aligning Opportunities include:
National income disparities between workers of different ethnicities persists. In Ohio, Black, Hispanic, or Latino/ multiracial, and native American/American Indian workers make between $0.14-0.28 less than their white coworkers.
The Bureau of Labor statistics report that women's employment number have rebounded from Covid levels, and the rate of working mothers (and fathers) rose in 2022 nationwide. Further, the decrease in female workers is lower than males (-0.6% decrease for women compared to men's 2.7%).
According to 2022 BLS estimates, industry sectors that saw the biggest gains in veteran talent include professional and business services, leisure and hospitality, and construction, while those in transportation and utilities, wholesale trade, and self-employed declined since last year.
In 2022, unemployment for people with a disability decreased 2.5%. The employment rate in 2022 for working-age workers with disabilities (16-64) increased at a higher rate (3.4) than workers without disabilities (1.9). This is generally attributed to the tight labor market and plentiful remote work opportunities.
Read the Gig Workforce report on the Tri-C website.
October 26, 2023
MEDIA CONTACT: Anthony Moujaes, 216-987-3068 or anthony.moujaes@tri-c.edu