TIAA Institute Honors Tri-C President Alex Johnson With 2022 Hesburgh Award
National award recognizes contributions to higher education and society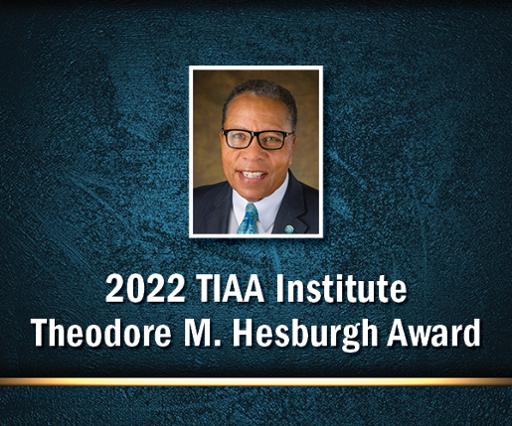 Cuyahoga Community College (Tri-C®) President Alex Johnson has won the 2022 TIAA Institute Theodore M. Hesburgh Award for Leadership Excellence in Higher Education. The annual award — presented by the TIAA Institute and the American Council on Education (ACE) — recognizes a college or university president or chancellor whose outstanding leadership has made a major contribution to higher education and society at large.
"I am honored and humbled to receive this award on behalf of all who serve Tri-C," said Johnson. "It recognizes their dedication, passion and commitment to helping our students succeed in the classroom and in life. Echoing the legacy of Father Hesburgh, this great honor underscores the important role that community colleges play in strengthening society by helping individuals experience the dignity of work and the happiness of a fulfilling life."
During his nine-year tenure, Johnson transformed Tri-C's Metropolitan Campus and secured a $10M donation — the largest in the College's history — to create the Jack, Joseph and Morton Mandel Humanities Center and establish a permanent endowment to support the center and its initiatives. Along with transforming the College physically, Johnson has transformed the growth and success of Tri-C students, establishing numerous initiatives to improve graduation rates and economic equity throughout Greater Cleveland.
Johnson has helped the College develop business, industry and community partnerships along with infrastructure and programs to prepare students for careers that provide family-sustaining wages, solidifying Tri-C's place as a powerful engine that drives the economic success of Northeast Ohio, its communities and its people.
"Under President Johnson's leadership, Tri-C has expanded industry partnerships, developed community resources and introduced new academic programs — all in the service of preparing students for careers that pay a sustainable wage," said David P. Richardson, head of the TIAA Institute. "His achievements provide a model for community colleges nationwide."
Johnson received the award today during a ceremony at ACE's annual meeting, attended by deans, presidents and chancellors from colleges and universities across the country. This year's event took place in San Diego.
"Alex Johnson is an inspirational and innovative leader who has expanded access to higher education and increased the opportunity for social and economic mobility for hundreds of thousands of students at Cuyahoga County Community College and the other institutions he has served so well," said ACE President Ted Mitchell. "ACE is proud to join the TIAA Institute in honoring such a transformational figure in American higher education. Alex's unwavering dedication to bettering the lives of his students by providing high-quality, affordable postsecondary education is true to the spirit and commitment exemplified by Rev. Hesburgh."
The Hesburgh Award is named after former University of Notre Dame president Theodore M. Hesburgh, who passed away in 2015. Learn more on the TIAA Institute website.
March 07, 2022
By Anthony Moujaes, 216-987-3068 or anthony.moujaes@tri-c.edu