Three Triceratops Recognized as OCCAC's Top Weekly Performers
Softball player Maddie Brockman, baseball players Carter Gast and Sloan Ulrich honored by conference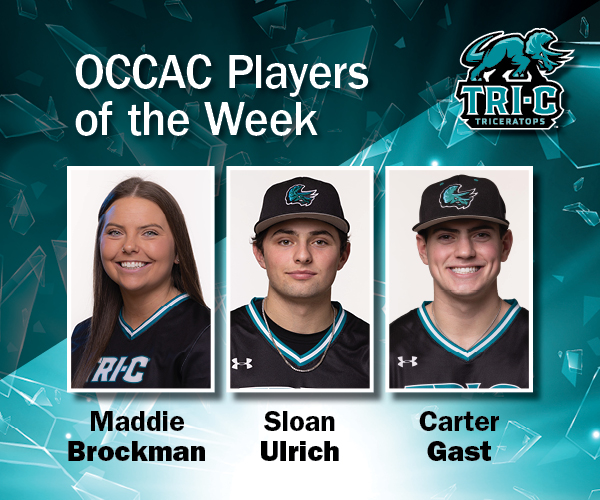 Three Cuyahoga Community College (Tri-C®) athletes were named top weekly performers by the Ohio Community College Athletic Conference (OCCAC). Maddie Brockman, Carter Gast and Sloan Ulrich earned all-conference recognition after impressive showings for Tri-C's softball and baseball teams April 10-16.
Brockman, the Softball Position Player of the Week, went 11-for-18 at the plate in six OCCAC games with a pair of doubles, a home run and five RBIs as the Triceratops won five of six games against Bryant & Stratton (OH) and Owens Community College. The freshman from Fayetteville is batting .375 with 17 RBIs and one home run for the season.
In a six-inning complete game against Hocking College, Ulrich struck out seven batters and allowed just four baserunners. The left-hander gave up one earned on three hits. The sophomore from Solon has a 2-1 record with 40 strikeouts this spring.
Gast batted .500 (9-18) in six games and hit two doubles, two triples and a home run. In five of the six games, he either scored or drove in two or more runs. Gast, a freshman from Olmsted Falls, is batting .464 on the year with 15 RBIs, two homers and 25 runs scored.
The baseball team (22-8, 15-1) remains in first place in the OCCAC and has won 12 of 13 games in April. The softball team (13-10, 9-3) is second in league standings behind Hocking College.
Visit tri-c.edu/athletics for full team schedules.
April 18, 2023
MEDIA CONTACT: Anthony Moujaes, 216-987-3068 or anthony.moujaes@tri-c.edu