The Illuminating Company Hires Graduates of Power Systems Institute at Tri-C
New line and substation workers will work at sites across Northeast Ohio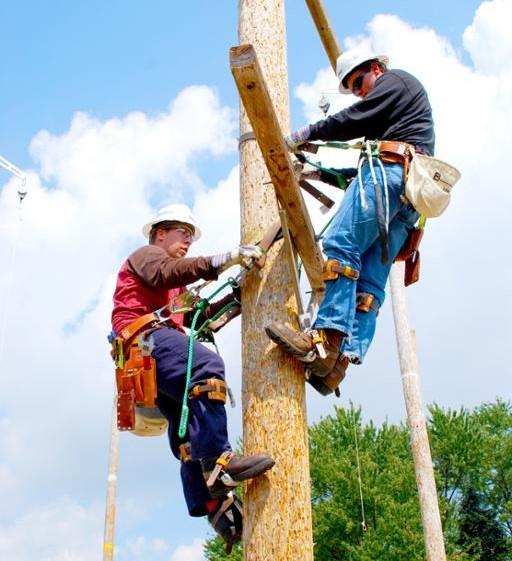 The Illuminating Company has hired 23 graduates of the company's utility worker training program at Cuyahoga Community College (Tri-C®) as part of its ongoing efforts to enhance service reliability for Northeast Ohio customers.  
The new line and substation workers represent the fourth graduating class since the company reinstituted the Power Systems Institute (PSI) training program at Tri-C in 2014. The program is a partnership between the College and The Illuminating Company, a subsidiary of FirstEnergy Corp. 
The two-year program combines hands-on utility skills training at an Illuminating Company facility in Brooklyn with technical coursework taught in Tri-C classrooms. Graduates earn an Associate of Technical Studies degree with a focus on electric power utility technology. 
"Our PSI program develops top-quality, well-educated men and women for the electric utility industry," said Mark A. Jones, regional president of The Illuminating Company. "We look forward to these graduates joining our workforce to help continue providing safe and reliable electric service for our customers." 
The graduates will work for The Illuminating Company at various Northeast Ohio locations. 
The new hires include Gino Barsotti of Seven Hills; Adam Belmonte of Fairview Park; Angelo Ciaravino of Middleburg Heights; Bryan Coolidge of Willoughby Hills; George Gantner of Cleveland Heights; Thomas Herron of Grafton; Tylor Hupp of Cleveland; Ryan Juszczyk of Parma; Ryan Killeen of Medina; Brad McDermott of Avon Lake; Mark Miller of Jefferson; Conor Murray of Painesville; Brennan Novak of Grafton; Damon Pierce of Mentor; Adam Polivka of Parma; Jacob Pridemore of Madison; Jaret Pridemore of Madison; Zachory Rastall of Mentor; Jason Sinclair of Cleveland; Travis Stoneman of Austinburg; Anthony Thielman of Parma; Neil Waite of Avon; and Matthew Zaletel of Bainbridge Township. 
FirstEnergy introduced the PSI in 2000 to prepare the company's next generation of utility line and substation workers. Programs were established at colleges throughout the company's six-state service area, including Tri-C. 
Since the program's inception, FirstEnergy has hired more than 2,000 line and substation personnel who completed PSI programs in Maryland, New Jersey, Ohio, Pennsylvania and West Virginia. 
For information on the program, visit firstenergycorp.com/psi or call 800-829-6801.
September 09, 2020
John Horton, 216-987-4281 john.horton@tri-c.edu