The Hard-Fought Journey
Malik Shabazz returns to Tri-C following a career in the military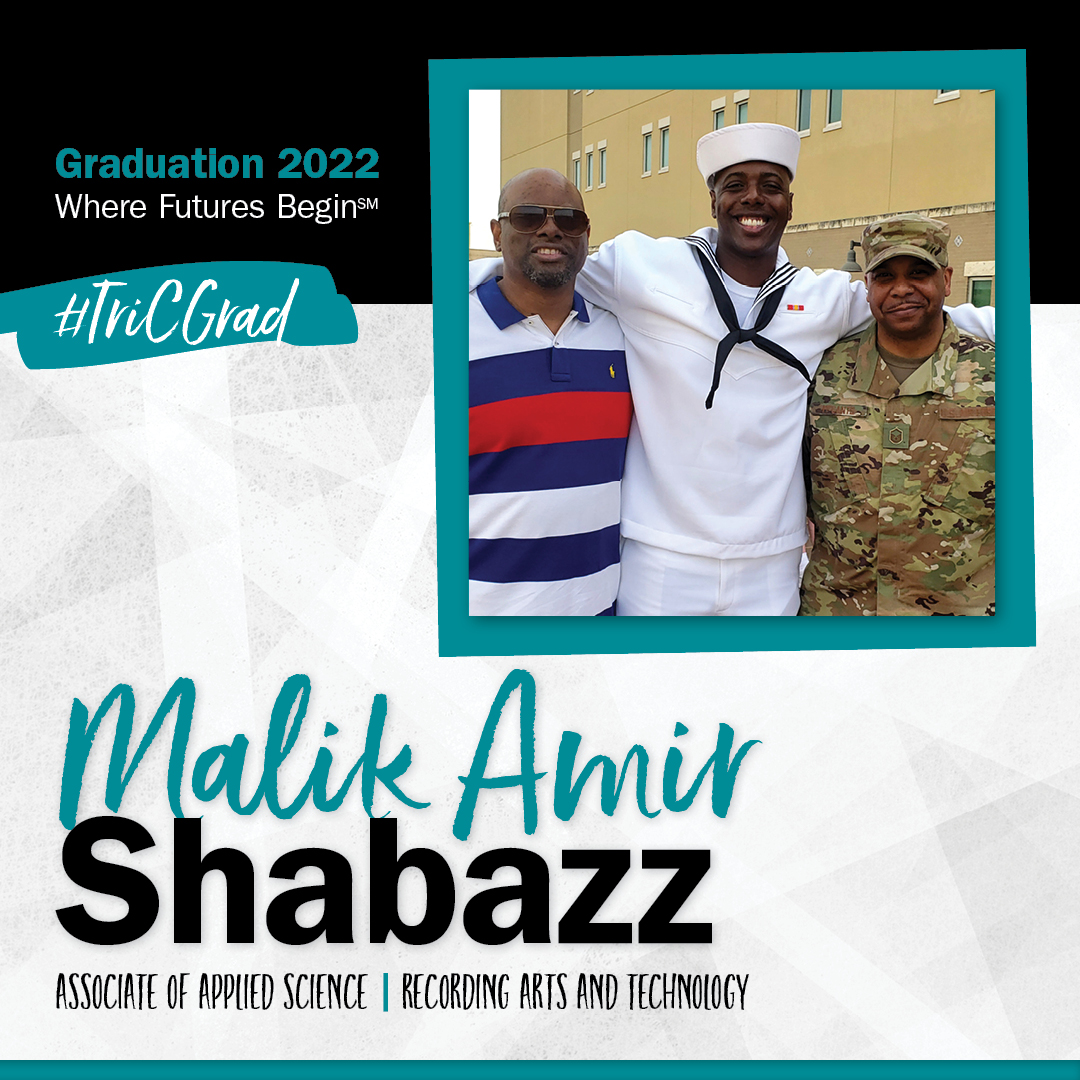 When Malik Amir Shabazz returned to Cuyahoga Community College (Tri-C®) to resume his education, he had no idea where to begin. But he was certain of one thing: He wanted to earn an associate degree.
 
"I was 27 years old and didn't have a degree yet," he said. "So I started the hard-fought journey."
 
This journey goes back to 2012, when Shabazz briefly attended Tri-C before moving to play college basketball in Chicago. He later joined the Army National Guard before enlisting in the U.S. Navy, which provided a better schedule for his young sons. Not called up to active duty for some time, he decided to re-enroll at Tri-C in 2019.
 
With assistance from Veteran Services staff at the Metropolitan and Eastern campuses, Shabazz enrolled in the College's Recording Arts and Technology program.
 
"I came in not knowing too much about recording arts, but I've learned a lot," he said.
 
During his second semester back at Tri-C, Shabazz was deployed to Guam for four months, which forced him to continue his courses remotely. And there would be more challenges to overcome ­— Shabazz's mother was hospitalized back home with COVID-19.
 
Despite these struggles, he persevered and was able to finish out the semester.
 
Shabazz will graduate with an Associate of Applied Science in Recording Arts and Technology degree during Tri-C's Spring Commencement ceremony on June 2 at Progressive Field. He plans to pursue a bachelor's degree in computer science from the University of Nevada-Las Vegas, followed by master's and doctorate degrees.
 
"I took a long enough break the first time," he said.
 
Shabazz owns his own music production company, and — driven by the knowledge he gained at Tri-C — he aspires to grow it by delving into the film industry and continuing his education.
"Tri-C really sticks by what they say," he said. "They really try to help you. Whether you're just taking courses or getting a degree, they really want to help."
Cuyahoga Community College will celebrate the academic achievements of its newest graduates during commencement on June 2 at Progressive Field in Cleveland. Check our News and Events page leading up to the event for more highlights of the Class of 2022.
May 24, 2022
By Anthony Moujaes, 216-987-3068 or anthony.moujaes@tri-c.edu