Celebrating the Legacy of Martin Luther King Jr. and Morehouse College
Event concludes yearlong series presented by Tri-C and The MetroHealth System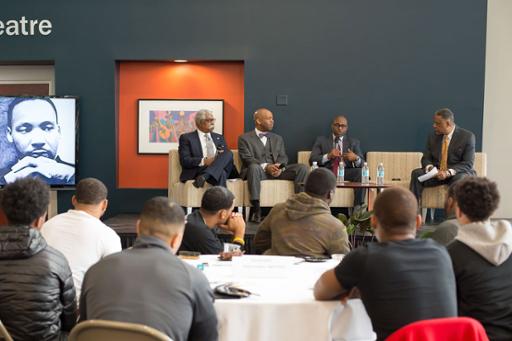 Martin Luther King Jr. walked onto the campus of Morehouse College — the world's only historically black college for men — at age 15. The four years that followed transformed him into a civil rights leader who continues to inspire.
The legacy of Dr. King and Morehouse took center stage on Thursday, April 4, at the Jack, Joseph and Morton Mandel Humanities Center at Cuyahoga Community College (Tri-C®).
Dozens of students from six area high schools attended the MLK Morehouse Legacy Day program to learn about that institution's role in inspiring African American men to achieve and "walk with an air of expectancy."
Tri-C recently entered a partnership with United Negro College Fund to strengthen connections with Morehouse and other historically black colleges and universities, or HBCUs, across the nation.
A panel of Morehouse alumni spoke at Thursday's event. The group included:
William Gary, executive vice president of Tri-C's Workforce, Community and Economic Development division
Cory Jenkins, pastor of South Euclid United Church of Christ and vice chair of the Cuyahoga Community College Board of Trustees
Kevin Carpenter, vice president of manufacturing at Rockwell Automation
Another Morehouse graduate — Thomas Minor, director of faith community outreach and pastoral care for The MetroHealth System — moderated the discussion.
Each spoke of the transformational role the Atlanta, Georgia, college played in their life. They shared how Morehouse challenged them to sacrifice for others and rise to the occasion to make a better world. Their message reflected King's values and work.
"Dare to dream for a life for yourself that is bigger than you," Jenkins told the students.
"This is your time to change the course of history," Gary advised.
The presentation at Tri-C's Eastern Campus concluded a yearlong series of programs dedicated to King. The Dream Endures was sponsored by The MetroHealth System and Cuyahoga Community College.
The series marked the 50th anniversary of the civil rights leader's death. Thursday's program fell on the date of King's assassination.
April 04, 2019
John Horton, 216-987-4281 john.horton@tri-c.edu